Articles written by guest contributors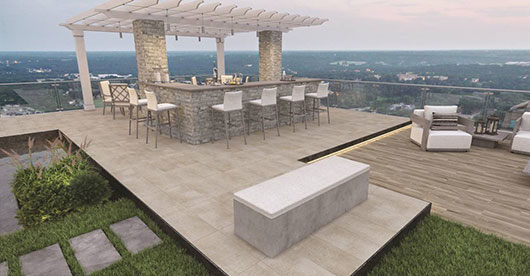 Porcelain pavers come a long way

By Phil Graves

Outdoor porcelain pavers are still relatively new in North America having been first introduced about 6 years ago — but their popularity is growing rapidly. Porcelain offers a combination of aesthetic beauty and performance characteristics that make it an easy selection as more homeowners, architects and designers learn more about them.

Historically, porcelain tiles have been too smooth for outdoor surfaces, but most newer porcelain pavers have a dynamic coefficient of friction (DCOF) over .60, which is safe for outdoor use in wet areas, even in a commercial environment. By contrast, a stained concrete pool deck with just a 2% slope that has been sealed can be very tricky to navigate when wet.

Speaking of sealing, stain resistance is another important characteristic of decorative outdoor flooring. Most traditional materials don't look like the picture in the catalog for very long if they aren't protected with some type of sealer. For a ceramic material to be certified as porcelain, it must have a water absorption rate of less than 0.5% — that's a half a percent, not 5%. Because porcelain is so dense, it is virtually impervious to all staining and won't even accept the application of a sealer.

The world-renowned Henry Doorly Zoo in Omaha, NE, selected porcelain pavers for improvements at their aquarium. With nearly 2 million annual visitors to the zoo, the primary concern was resistance to staining, particularly from spilled sunscreen. A simple test proved porcelain's superior performance, and the look of the new material impressed enough to convince the architect to include an indoor version of the tile for the public restrooms.

The lack of absorption also means that porcelain pavers are highly resistant to freeze-thaw cycles. More porous materials absorb water, and when it freezes the water expands roughly 10% and pushes outward. This slowly makes the pores bigger, which allows them to hold even more water and eventually leads to surface spalling or scaling.

De-icing salts exacerbate this problem by introducing water-soluble salts into the paving material that crystallize and grow over time, deteriorating the surface. Saltwater pools see this impact even in climates with no freeze-thaw cycles. True certified porcelain withstands all of this easily. Even pouring undiluted muriatic acid straight from the bottle onto the surface does not produce a single bubble, much less any damage.

In addition, a decorative flooring material should still look fabulous years after installation, and this is where porcelain pavers really excel. Not only do they resist stains and erosion, they are also highly scratch-resistant and do not fade. A diamond is the hardest material on the MOHS scale garnering a 10 on a scale of 1 to 10. Most porcelain pavers rate an 8 on this scale and typically withstand metal lawn furniture being dragged across them without marring their finish.

Finally, porcelain's resistance to fading is perhaps most impressive of all its characteristics. Offered in complex and detailed visuals such as wood, concrete, terra cotta and several different natural stones, porcelain pavers will look as good as new for decades. If you consider the potential for fading of other pavement options, porcelain pavers are a compelling choice.

Exterior-grade porcelain pavers are here to stay and present unique and exciting opportunities to hardscape contractors interested in expanding their business and growing profits.

Homeowners and specifiers alike are instantly taken by the beauty of porcelain pavers and are becoming increasingly aware of porcelain's superior performance attributes. "A properly installed porcelain pavement gives you the most beautiful, longest-lasting, easiest to maintain outdoor floor and has the best ROI of any hardscape material," said Mike Granatowski, a Director at Mapei, a manufacturer of pavement installation systems.


Phil Graves is director of Sales for Dal-Tile's Xteriors™ program, a collection of products that bring the beauty, durability and easy maintenance of tile to outdoor living spaces. For more information, visit DalTile.com/xteriors.