Contractor Stories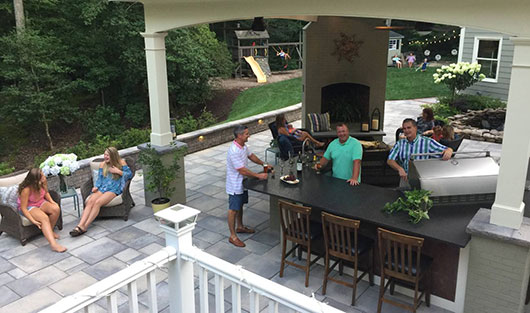 'I'll have what she's having'

A high-end residential property is a highly effective showroom for selling to high-end residential clients.

By Tom Hatlen



Project Profile

Design/build contractor

Robbins Landscaping, Inc.

Richmond, VA

Doug Robbins, President

Project value

$200,000

Size of improved space

3/4 acre

In-house work

Design

Paver Installation

Seat wall

Planting

Irrigation

Water feature

Drainage & some excavation

Lighting

Work by others

Outdoor kitchen

Pavilion

Fireplace

Year completed

2017

Doug Robbins' first showroom was built in his backyard. Then he built one by his shop. Now he's gone full circle, having just completed a showroom at his new house.

Doug says, "Back in the early 2000s I had a smaller showroom at our house, not nearly to the level that I have here. But it worked really well. Out of that showroom, over a 3-year period, we recorded selling about $875,000 worth of work."

Even so, he had big ideas for building a showroom at his shop. It seemed like a natural progression for his growing company to move the showroom from his home to his professional facility. He built it in 2009.

"We spent probably $75,000 there building a pond and walkways. We had special weekend events there where we invited many of our clients. We had giveaways. We had bounce houses. We had a DJ."

While the shop showroom is beautiful, Doug says it never worked out to expectations because people can't get past the fact that it's in an industrial park. "With everything else around it people think, 'This doesn't look like anybody's yard.' And then, my business is not exactly on the beaten trail. It's 15 minutes out of the way for just about anybody."

So, 4-1/2 years ago when Doug and his wife Leigh started landscape planning for their new house, they got back to the idea of turning their property into a showroom. This time they were really going to do it up.

Doug says, "We kept saying, if we don't do this to the top of the line or close to it, those wealthy clients won't picture this in their yard. And it's going to be hard to describe that and sell that to them."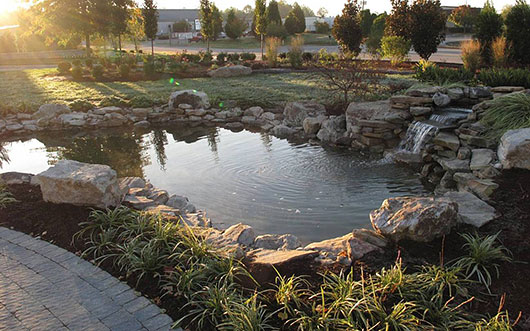 I want what they have

Of the handful of serious buyers Doug's invited over, one hired him to do a $125,000 project, another bought a smaller project while a 3rd one is close to a contract.

On the larger project, Doug says the clients had been discussing $70,000 worth of work, but weren't sure they could afford it. "I called them and said, 'Hey, we just finished up the work at my house, why don't come over. It might give you some perspective.'

"The evening was just coming on. I had the lighting on and the music on, and Mark the husband said, 'Yeah, we'd like to do some of these things, not sure about all of it.' Then his wife looked at him and said, 'Mark, I want what Doug has in his backyard in my backyard.' Next thing we know, they did a $125,000 project."



4+ years of planning/construction

It took 4+ years to get the project done partly because the first several months were spent renovating the house and building a garage. Then, to create entertainment space, they built up the sloping backyard with 100 tons of fill. Also, Doug's crews worked on his property mostly when they were between other jobs.

Doug says the biggest challenge of the job was the stop and go work, getting a section started then coming back a month later to finish it out. Living in an ongoing construction site got old too. But the extra time allowed Doug to really think through what would appeal to wealthy clients.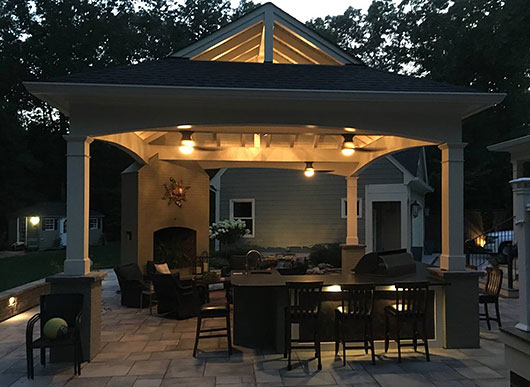 You're the host

So, now, with the project in place, Doug is planning events so people will see it. "I'm always trying to think of excuses for inviting people over. It's generally a party for the kids' sports teams, or kids' class, or friends of ours. We are going to have some client appreciation events too."

Their first large event was attended by 75 parents and children for his son's 5th grade graduation party. "Hosting things like that, you never know who's going to come over, who might know somebody. It's word of mouth, people start to know what you do for a living and send other people over."

In a party situation, people fully experience the entertainment area and how it's used. Doug says it's more powerful than walking through a showroom and avoids the awkwardness of touring a past client's backyard.

"It took me 4 years to try to figure out how my clients were thinking and then find the money to build something that would wow them. I think it's going to make it a lot easier for me to sell more work. Hopefully, it will be more like just taking orders. Like my one client said, 'I want your backyard in my backyard.'"