Contractor Stories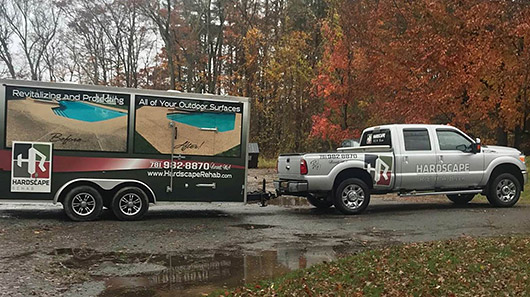 Going into Hardscape Rehab

By Tom Hatlen

20 years after starting up Northern Lights Landscape, Doug Capodanno sold the company this past winter. Northern Lights is a high-end residential design/build firm with a lawn maintenance division.

Doug sold it so he could work full time in the new company he started a few years ago, Hardscape Rehab, a cleaning, re-sanding and sealing business. They also do minor repairs.

Doug came up with the idea for Hardscape Rehab back in 2015. He and a friend, a long-time businessman, were discussing potential additional revenue streams for his company. Then he recalled an article he had read some years ago in Hardscape Magazine.

"It was a feature on a company that did cleaning and sealing. I pulled it out of my filing cabinet, and put it in front of my friend. I said, 'This is something that interests me. I've got a database of people we've built patios and outdoor living areas for. And there's no one around here doing cleaning and sealing. We kicked around the idea. It made sense."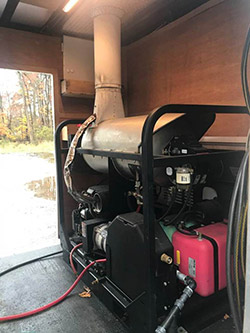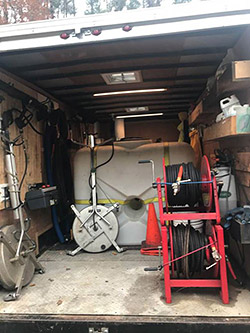 Doug spent much of the next 2 years doing extensive research on the viability of the new business. What was the level of consumer demand? What was the competitive picture? What did suppliers offer in the way of products, training and service delivery systems? What equipment did he need and how should it be set up?

By late 2017, things were coming together and Hardscape Rehab was open for business. By mid-2018 he was sold on selling his design/build business. "I started to see that Hardscape Rehab could really take off. The problem was I could only work on it part time. If I could dedicate all my time towards it, what could it really be?"

With Northern Lights sold and no longer a distraction, Hardscape Rehab was operating full-time right out of the gates in spring 2019. Sales rose more than 300% from September 2018 to September 2019.



Research required

Doug credits much of the success to doing his advance due diligence. "It was a long process, but I didn't want to jump into it, I wanted to really have a plan because we were essentially trying to introduce a type of service that would be brand new in this market."

One of the first research steps was to conduct an informal focus group of Doug's past install clients. "I sent out a survey that asked, 'Would this type of service be something that you would be interested in?' Everybody we heard from basically said, 'Why doesn't a company like this exist? This is a great service.'"

He researched the competition. "There were power washing companies in the area that will clean a patio, but no one was taking the extra steps to sand and seal. I started to research companies around the country who were doing it, going through their websites and gathering information. Then I asked my hardscape suppliers who was buying these products. Who's buying sealers? Strangely enough, it was mostly homeowners."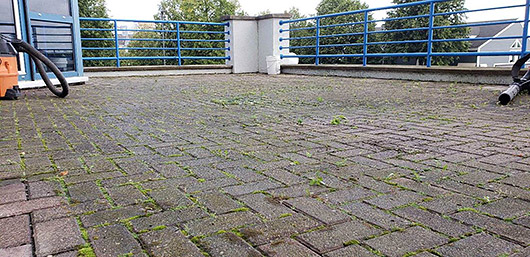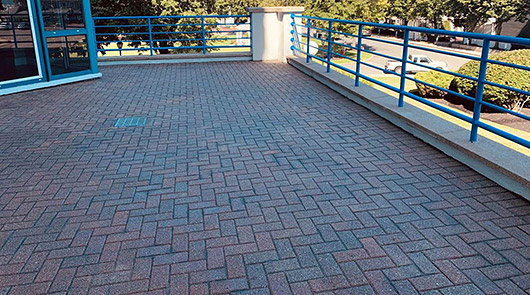 No labor problem

One of the things that really drew Doug to the idea of running a cleaning and sealing company was the labor issue. The more he looked into it, the more he understood that finding employees for Hardscape Rehab would be much easier than it was for his landscape company.

"Hardscape Rehab was not going to require the specialized help we needed to run a design/build company. We wouldn't need to search for good skilled masons and guys who could do lighting and water features, and things we had done in the past. Every spring we had that nervousness of wondering who's going to come back. Are we going to find that we don't have the people we need to keep the doors open?"

"My labor pool expanded exponentially with Hardscape Rehab. I can train new people pretty easily because it's more of a systemized process. Although it's detail oriented, it's more repetitive and doesn't require a broad range of skills. For this I could take, which I have, a policeman or a fireman who's looking to pick up hours doing something else. I train them and work them into the rotation on a part-time basis."

Doug says the business is easier to run too. "I used to invest a huge amount of hours in designing a property and then presenting it with maybe 3 or 4 other companies in a bidding process.

"Designing isn't a part of the process with Hardscape Rehab. And estimating is so much quicker and easier. It's almost just a simple square foot-type of estimate. We don't have to worry about all those different factors like drainage and access, and things like that.

"In fact, we've set up an app on our website where someone can upload a picture and basic dimensions, and we can shoot them back a ballpark of what they're looking at. I could never do that with the landscape business because there are too many elements involved."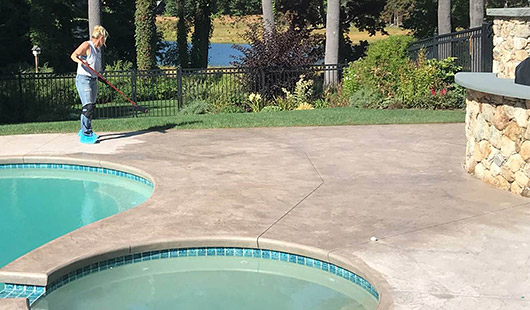 The search for equipment

In his research for equipment he found a company called Hot and Mighty out in Indiana that builds custom power washing rigs for all types of businesses. "I talked to them several times. 'This is what we're doing. We will only be cleaning hardscapes. We're not power washing homes or RVs or anything else.'

"I got a good education from them. They understood what we needed, the machine, the hose reels, the attachments.… They built us a custom 16' enclosed trailer. I drove out, picked up the trailer and drove it back to Boston."



The search for a supplier

The priority in selecting a supplier was to find a company who would provide training in addition to a full line of products. Doug found SEK Surebond offered training but their website didn't show training in his area. So he called them.

"Literally, within 24 hours I had one of their reps [Jay Krech] at my office. I ran through our business plan with him. He was excited about it. He said, 'Let us come out and work with you on your site, set up some demos and really train you.' Their products have been fantastic and they have been phenomenal in training us. Now, when we come across something, we just pick up the phone or even FaceTime and say, 'Jay, how do I deal with this?'"



Marketing required

Doug believes establishing a good marketing plan has been critical to getting Hardscape Rehab off the ground and to continuing its growth. It's so critical that he hired a VP of Business Development, Jinny Baker, as one of 2 full-time year-round employees.

Early on they focused on reaching past customers they had done installation work for. They sent both emails and hardcopy letters to ensure their message was seen. Doug says, "I introduced the new service and asked to meet with them and look at their surfaces. We got good response from it."



Profile

Hardscape Rehab, LLC

Norwell, MA

Founded 2017

Doug Capodanno, President

Customer base

60% residential

40% commercial

Services

80% clean, sand, seal

10% clean, seal

10% repair

Project price range

$1,200 to $35,000

Employees

5

They made a special effort to reach restaurants with patios Northern Light had installed. "We ended up probably doing close to a dozen outdoor restaurants, getting their patios opened up for the spring last year."

Doug says they've been running a TV commercial on channels geared for women such as Bravo, HG, DYI and Lifetime as well as sports channels popular with men.

"We got the commercial into rotation for most of the summer and fall of 2018. We got some pretty good response, but we got even more impact the following spring when we weren't running it. We were getting all these calls with people saying they saw the commercial. That worked out really, really well."

Hardscape Rehab is also marketing to installation contractors. "Last year Jinny developed a contract referral program for us. We put a glossy flyer together offering contractors another revenue stream. We'll pay 10 cents per square foot for projects they send our way. Jinny's visited a lot of contractors, and we've had some really jump on board. It's probably 15% to 20% of our business now. I think it will increase next year."

To encourage repeat customers they put together a 3-year program for ongoing cleaning and sealing. 1st year is the initial cleaning, sanding and sealing. 2nd year is light cleaning and touchup sealer. 3rd year is cleaning and sealing.

Doug says they don't push the repeat customer program at new customers, which is nearly everyone at this point. "Because it's a new service and they're not used to it, let them enjoy it the first year. Next spring we'll send them a reminder, 'Hey, if you'd like, we can do a soft wash this spring and clean it off from the winter.'"

Doug expects commercial work to grow to somewhere around 35% or 40% of their work. "Jinny has talked to multiple wedding venues, resorts, golf courses…. We've had a couple hire us this year. A lot of them said next year they want to work us into their budget. She's staying in touch with them."

"We've been able to make inroads with office buildings. We're also tied into a very large 55 and older community south of us. They've all got paver patios, and walkways, and courtyards. I bet we've done close to 100 homes just in that community."

In the future they're looking to expand with satellite offices to affluent communities in the area. "Right now we're in a really unique position. I want to capitalize on it pretty quick."



The Rehab process

Hardscape Rehab accomplishes typical cleaning, sanding, sealing projects in 2 visits to a property. First a 2- or 3-man cleaning crew arrives with a pickup pulling the 16' enclosed trailer housing a 3,000 psi, 8 gpm, hot water power washer, a 600 gallon tank, 2 hose reels, several wands and 2 surface cleaners. It's outfitted with shelving to store various cleaners and supplies.

A day or 2 later, a 2-man joint sanding and sealing crew arrives in a pickup truck. They install regular jointing sand then apply a combo sealer/sand stabilizer.

For 2020 Hardscape Rehab is looking at adding an additional cleaning crew with equipment stored in a box truck rather than a trailer. Doug also projects adding another sanding and sealing crew that will likely use a service van rather than a pickup.