Contractor Stories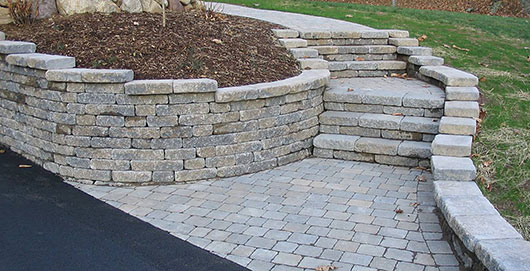 Getting paid for your knowledge

By Tom Hatlen

"We did our very first interlocking paver installation with 10" of sand base," chuckled Ted Greiner, president of TJB-INC. That was in the early-1980s when interlocking pavers first arrived in Ted's little piece of Connecticut.

He says they jumped at the opportunity because no one else was doing pavers. That also meant there was no one to learn from. There were no training classes and minimal resources of any kind available in that pre-Internet era.

But Ted understood the interlocking principle, compaction and drainage well enough that that walkway is still holding up well today. Even so, when the first ICPI training classes did come around, Ted signed up immediately. "We make sure that everybody that comes to our company goes through the classes and gets certified."

Today, Ted's certifications include: NCMA SRW Level 1 Installer, CT Turf & Ornamental Supervisor, CT Arborist, ICPI Paver Level 1 Installer, ICPI Permeable Paver Installer, Certified Master Aquascape Contractor, NOFA Certified Organic Landcare Professional, U-Conn Certified Advanced Master Gardener, Mauget Certified Injector and many others.

Doing things correctly is a driving principle at TJB-INC. Doing things correctly allows Ted to offer a 10-year "No Sink or Settle" warranty on paver installations while most competitors in his area offer maybe a 2-year warranty. "We found if you do it correctly by ICPI standards to begin with, you don't get the callbacks."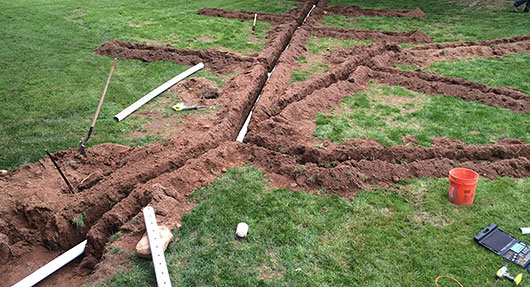 Charging for consultations

Doing things correctly also allows Ted to charge for consultations, $125 minimum. If they create a design or any other type of solution for any of their work, they charge a consultation fee for the education /solutions. If someone presents them with a design and asks for an estimate to install it, they will provide the estimate for free as the state of Connecticut requires for all home improvement-related estimates.

Ted says he stopped working in the field years ago. "I work 'on' the business instead of 'in' the business. I share my 42 years of field knowledge for money. And that is a good way to have a business."

Here's an example of how Ted distinguishes consultations from estimates. If he has to visit a site and create a drainage solution, he charges for that. But, if someone says, "'I want 12 arborvitaes planted in a row. How much?' I would do a free estimate on the phone for that. I'll ask them to send me photos. I'll look it up on Google Earth, get an idea what the area looks like, if there are outcroppings of rocks, if it's a wet or dry area. Ease of access? Then, I'll call them back and give them some ideas and prices without needing to do a site visit or design.

"If it's simple enough to do on the phone, I'm free. But if I've got to come out to the site, I charge."

Ted says he first started charging for landscape designs/solutions in 1995. "Other local contractors all said, 'You're going to be out of business in a year because no one's going to pay you.' Well, you don't know if people will pay if you don't ask. So, I asked, and people paid, and I've been doing it ever since."

Charging for consultations also weeds out less than qualified prospects so Ted doesn't waste his time with price shoppers.



Site tests impress clients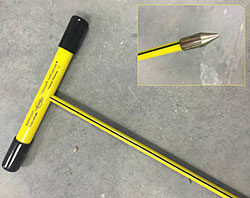 When Ted makes a site visit to price a hardscape project, he does several tests that help determine site conditions and impress prospects that he knows what he's doing. Ted tests the deep substrate with a 4' fiberglass ground probe. He checks for buried utilities with a magnetic locator and he evaluates soil thru a site dig.

"As I'm doing these tests, the customer's thinking to themselves, 'Okay. How come nobody else did this?' Then, I give them a 4-page outline showing our ICPI/NCMA certifications, our experience, trade memberships, our warranty, the fact that we've been around for 42 years. It helps seal the deal."

• 4' T-handled fiberglass ground probe

Ted pushes the metal tipped ground probe into the soil to check the density of the soil. "Am I hitting lots of rocks or pipes? Can I only go down 6" because I'm hitting a ledge or clay soil?

"I was testing a gravel driveway the other day. Once I broke thru the first 6" my probe went down a whole 4'. I showed the client. I said, 'That means it's very soft underneath.' Then, she remembered that when she was a child in the '50s, her parents had hedges there. I said, 'That explains why it is sinking. That's not the place to put your driveway.'"

If the probe comes out of the ground wet, Ted knows there are water issues he'll have to deal with, and how far down they are. The probe is especially useful to test for compaction near newly constructed swimming pools and foundations.

"It tells me whether I should be using extra geogrid. Should I be digging a little bit deeper? Do we need to modify the soil or bring some 2" stone to give us a structural layer that we can build on? Then I can adjust my price accordingly on my estimate."

Ground probes are available at contractor supply stores and online.

• Site dig

One thing the ground probe doesn't show is what type of soil a site has. To test that, Ted does a site dig, something he learned at an ICPI training class.



"One of the instructors said, 'Does anybody bring a shovel with them to an estimate?' Nobody raised their hand. He said, 'How do you know what you're building on top of? Dig a little hole. The customer will like it.' What a great idea. For years that's what I've been doing.

"I will dig a 6" to 12" deep hole in front of the customer. Typically, to the bottom of where the base would be. Is it a sandy soil? Was there a layer of topsoil, then a layer of fill?"

As he's doing the test, Ted tells the client what he's looking for, maybe a story about surprises he's found at other sites, and what his findings mean for their project.

• Buried utility test

Ted uses a CST/Berger Magna Trek magnetic locator to look for buried utility lines in the work area. He says his Magna Trek is similar to the tools public utilities use thru Diggers' Hotline.

Why check the area yourself when Diggers' Hotline utilities are also going to check? "I do that during the estimate because I want to know what unknowns I might be up against and I can price accordingly up front."

Additionally, Ted says the utility services only mark public utilities. They don't mark undocumented lines that a homeowner or handyman may have put in. Ted says he's found many unmarked or mismarked utility lines and pipes over the years with his equipment preventing accidents and unnecessary repairs. Ted cautions that his Magna Trek, like the Diggers' Hotline tools, only detects ferrous metal, not copper, aluminum, etc. so they're always careful digging.



Offering water feature expertise

As the paver market has become more crowded in his area, TJB-INC has expanded into other profitable areas that require a different expertise that thins out the competition. Ted's current passion is custom water features. "Because you can come in, and in 1 or 2 days you create something that just wows the customer."

He says selling ponds is different from selling pavers. That's because a pavement is something that the client is going to use while a pond is something they look at and enjoy.

"If the client wants a walkway, it could be concrete, or stepping stones, gravel, or it could be pavers. You sort of have to get them to buy up, so it's a little bit tougher to sell.

"With a pond, they either want it or they don't because it's not something they need. It is something they want. Same thing with synthetic putting greens. It's a different market, different money, and it actually tends to be an easier sell for those who have the money. They shop less than if they're doing hardscaping."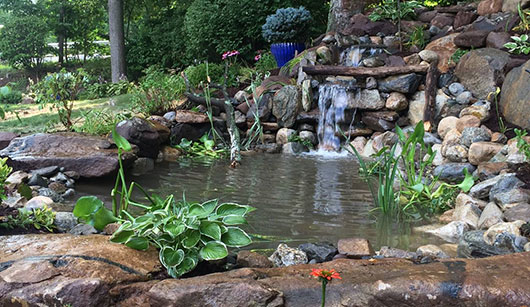 Profile

TJB-INC

Founded in 1976

President & CEO Ted Greiner

Customer base

95% residential

5% commercial

Services

40% hardscape & synthetic putting greens

20% water features

20% drainage solutions

10% landscape maintenance

10% snow management

Project price range

$2,500 to $25,000

Annual sales

$1.8 million

Employees

6

Selling drainage expertise

Drainage is another specialty market with less competition. Ted says people with water problems don't take it lightly and are willing to pay for an expert who can diagnose and fix it. Once TJB-INC solves the drainage issue, the yard becomes useable so a share of these clients become interested in further improving their outdoor living space.

A few years ago, Ted began more actively promoting drainage solutions. "We added "drainage" to our company name for online searches, so now we're TJB-INC Landscape & Drainage Contractor. Because of our long-time presence online, the name got picked up very quickly and indexed by the search engines. So, when somebody in Connecticut starts searching for drainage or wet yard, we show up on top. This year, we've had a wet spring, so it's been wonderful for calls."

Ted also owns the website names Drainage.Expert and Pond.Expert. "My email is Ted@Drainage.Expert. I'm also Ted@Pond.Expert. When the .Expert extension came out, I jumped on that and reserved a bunch of them. So, instead of Ted@BlahBlahBlahCompany, I'm Ted@Drainage.Expert. It says it on my card. It says it on my shirt. Says it on the estimate. Customers have more confidence in me because 'He must be an expert.'"

After 42 years in the business, Ted's youngest son Rob (who shares the same passions for building, problem solving and learning) is planning to purchase the business when Ted retires and keep TJB-INC going for another generation. But Ted's not quite ready to retire yet. "Getting a little bit of gray hair makes all the difference in the world on closing estimates. People think you know more because you're older, even if you don't. I am enjoying this part of life."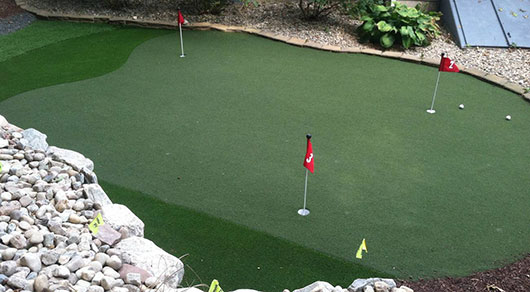 ShopTJB.com
Ted started an online store, ShopTJB.com, back in the early 1990s and it's still going strong today with annual sales of $1 million plus. The store sells hardscape lighting, water garden supplies, putting green supplies, wildlife traps, lawn art and more.
"I wanted something that would allow me to make money should I ever become disabled and not able to do hardscaping. How would I pay the bills?"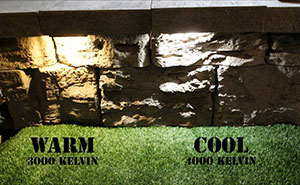 He got the idea for the online store from clients often asking to buy the products he was using, like traps to remove snapping turtles from ponds. "I'm always looking for new widgets that the world has not found yet, that we can sell online for a profit."
The Solar Brick Paver Lights he sells aren't a product Ted discovered somewhere. They are something he developed. "I was big into electronics in high school and graduated with high honors in physics."
Ted created the Solar Brick Paver Lights for contractors who had been buying the 12-volt wired lighting products he was selling. A recent Connecticut law requires a low-voltage license to install any type of wired lights. So, most of his contractor customers couldn't legally install them in anymore.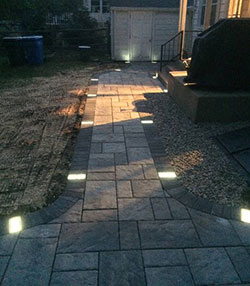 Ted designed the Solar Brick Paver Light with access to the LED Module and inner workings from the top. "You never have to remove the fixture from the ground. You can use them in poured concrete or any masonry application as well as with polymeric sand."
The Wall Eye ll Light Ted sells is a modification of a light manufactured by the same company Ted hired to make his Solar Brick Paver Lights. "The Wall Eye ll Light is only a 1/2" reveal. We were able to price it low because we didn't have as much material in it, and it gave the same effect as the higher-priced lights. I had them made with (2) different LED modules, one a warm, and one a cool because there weren't a lot of those on the market."
Check out Ted's online store
ShopTJB.com
.