Contractor Stories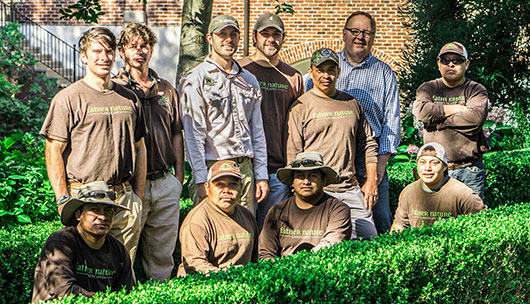 Finding & keeping the best employees

Constant recruiting, good training, frequent rewarding and taking a personal interest in employees scores 85% retention.

By Tom Hatlen

There were times in the past when Andrew McCurry would hire people if they could just show up to an interview and pass a drug test. Not anymore. Too many times those poorly vetted hires had issues and didn't last long enough to become a trained asset to the team. Worse than that, they were a cancer on the crew leading to bad attitudes all the way around.

"One of the most value added things I do as an owner of our company is hiring good people. Once you get a group good people they're self-selective. They want to be around other good people. They don't want bad apples in their group because it brings them down as a whole."

Andrew can be more selective in hiring because he has an 85% employee retention rate. Creating strong working teams is one reason. Other reasons are thorough training, quarterly bonuses, caring atmosphere, company get-togethers, better wages and paid holidays.



Profile

Father Nature Landscapes of Birmingham, Inc.

Founded in 2009

Owners Daniel and Andrew McCurry

Customer base

95% residential

5% commercial

Services

Everything outdoor living including drainage, irrigation, lighting, hardscapes, softscapes, outdoor furniture, landscape design, landscape management

Project price range

$3,000 to $500,000

Annual sales

$4.9 million

Employees

35

"We take a personal interest in our people and we invest in our people. We have had employees leave the company for 3 months just to come back because they realize that it is different here, that we truly care about them."



Always be recruiting

It starts with building that good group of people. "I've always got to be recruiting even if I don't have an opening. I keep recruiting because I might find an all-star or a game changer, somebody that has strengths in areas that I don't. I'll find a place for him because we've got plenty of work to do.

"I just got back late last night from the Mississippi State Career Fair and the week before I was at a UGA Career Fair. But, most of our people aren't coming from colleges. They're walk-ins or referrals. I talk to my employees, "Hey, I'll give you a referral bonus ($100 to $300) if you can get somebody here that stays for at least 90 days."

He also runs online want ads thru Indeed and Craigslist. "We make it a little difficult for them. They'll send us a resume we'll tell them to go and fill out an application online. Once they fill out an application we'll let them know they'll be asked to pass a drug test."

As consultant Tony Bass says, "Failure to follow instructions during pre-employment is a good sign that an employment prospect won't follow instructions after you hire them." And, the promise of a drug test immediately culls out those who wouldn't pass it. For those who make it to the interview phase, arriving late is an automatic disqualifier.



A great place – for hard workers

Once hired, new employees are trained, learn what is expected and perform to those expectations, or they're out.

Andrew says, "We create a really good environment for people that want to work hard. Our foremen are top notch, and they are not going to allow dead weight on their crew. They want to finish under budget, and they want to look good when they report their hours in front of the group. If somebody is not performing the foreman will be the first to let us know."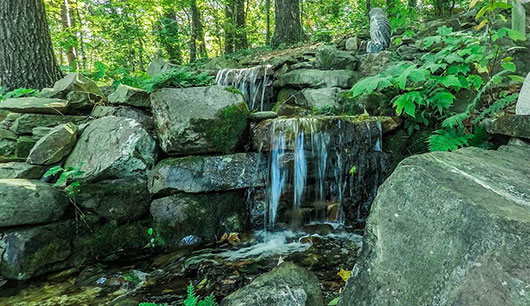 The more you learn the more you earn

But the goal is to give new employees every opportunity to perform well. This means training early and often. Andrew says, "We firmly believe those that learn more should earn more. We want our people to be well paid. But we can only pay them based on the value they actually bring to the marketplace."

New people sit down with a manager for a 1-on-1 orientation to learn the basics of what's expected of them. "Then, we'll put them with seasoned people, and we can tell our seasoned people, 'Hey, Joey here needs your help. He's only going to be successful if you can make him successful, and you will be more successful if he is successful because this is a group effort here.'"

Then they'll start up a once-a-week 45-minute training course. With the help of consultant Jim Paluch they've developed 7 construction-related training courses that last 7-weeks each. Topics are Jobsite Layout, Jobsite Staging, Drainage, Hardscapes, Lighting, Planting and Irrigation. Vendors like Techniseal and Belgard provide some of the training.

"Let's say the topic is Drainage. Then we'll cover everything from collection, conduction, discharge, pipe size, grate size, how to properly install, what equipment to use – all those things that help the guys get more comfortable with their work so they will know how to modify things when they run into different situations on site."



Training is for everybody

While 7-week classes are usually initiated when they get new hires, Andrew says everyone on the construction crews attend the classes, not just the newbies.

"That way some of the more seasoned guys can tell the newer people, 'This is what he's trying to say,' in layman's terms because I might be speaking over their head a little bit. It is very participatory. We'll ask different people questions, and they'll ask us questions. We do little quizzes and things like that just to make sure that people are listening and engaged.

"We've seen great gains out of it in improving our employees' skill level. We've also seen a bit of a culture change because the guys understand that this is important to us."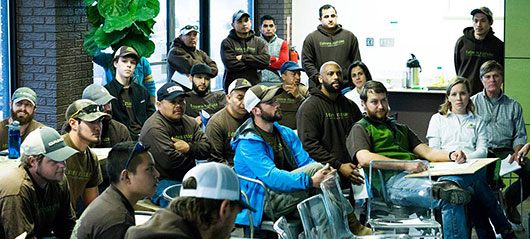 An app for training

Andrew is so passionate about training that he's leading the development of a training app for iOS and Android called Pay Dirt. He hopes to have it on the market for other contractors to use by next August. Andrew says the app incorporates game mechanics that engage employees in training. The app also allows you to test the skill level of prospective employees.



Show you care

Beyond training, Andrew believes it's important to take a personal interest in people.

"We're there at the gate in the morning giving high 5s and patting guys on the shoulder, calling them by their nickname. The guys love that. I met a guy at his truck this morning who had been out a couple days. I said, 'Hey man, how's your back doing? What did the doctor say?' Just engaging with them so they understand that we share compassion at that level and we aren't just viewing them as tools.

"Each one of these guys has a life and a story to tell and we need to take the time to listen to their story. When someone's not performing there might be something going on that's causing it that we could help with."

The company hosts social gatherings near Independence Day, Thanksgiving and Christmas to further build camaraderie. "It's like an employee appreciation party at the office where everyone brings their families. We provide a good meal. Sometimes we provide music or jumping houses, things like that. It's a time to unwind and get to know each other on more of a personal level instead of always being business.

"At our Christmas party every year we've been able to pay bonuses, and I hope that we'll always be able to because I know that the guys want to provide their families a good Christmas."



Bonuses paid quarterly

Employees receive holiday pay too. At Christmastime, they get the week off and pay for 40 hours. Throughout the year, profit-based bonuses are paid to employees every quarter.

Since they don't know their actual annual profit until the end of the year, quarterly bonuses are based on estimates. "I don't want to wait until year's end to put money in my guys' pockets because I know they're all living on a tight budget and things come up during the year."

Andrew says they're able to provide good financial benefits because they have highly skilled productive employees, they know how to manage their numbers from Consultant Tony Bass, and they focus in on their customers.

"We focus on high-end residential design/build customers, working with a family to create spaces that they will use. We focus on the experience for the customer and we focus on doing things right. When there's a problem we address it quickly. We don't want to get to the end of the job and have the customer feel like we're not listening. We want to leave them with a positive experience to where they want to become a big fan of ours and tell everyone they know."

Wish your company ran more like Andrew's? You're in luck. He started franchising his design/build business model last June. Call (205) 427-3950.