Contractor Stories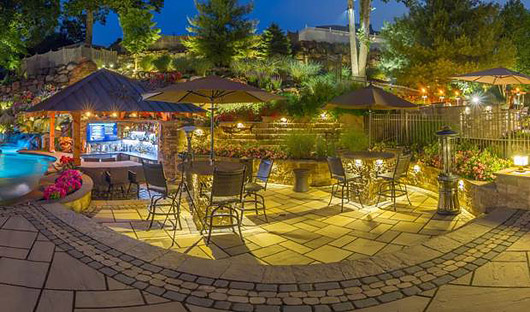 Building a backyard showroom

Contractor Joe Monello tells how he designed/built his backyard hardscape and uses it as a showroom.

By Tom Hatlen

Joe Monello's backyard project earned Monello Landscaping 1 of the 2 Project Awards they received at this year's Hardscape North America show.

Having the showroom at your house has its advantages:

Your family gets to enjoy it so you're probably willing to do more than you would for a display area at your facility. Who among us has a showroom at their shop at the level of what Joe has at home?
Hardscaping your home creates very functional space that greatly adds to its value. Hardscaping a showroom by your shop in an industrial park might not count for much when you decide to sell.

Of course the drawback of having a showroom at your house is that you don't want it open to the public. Joe says, "When the people are serious about doing a job with me, I'll invite them to come by. We don't bring everybody over.

"We get a lot of jobs because we entertain so much. I've got 3 kids, and they each do at least 2 sports per season. They are on so many teams, and we always host the parties. Hundreds of people come over every year and they see the work I do. People are always saying, 'Man, can we do something like that at my house?'"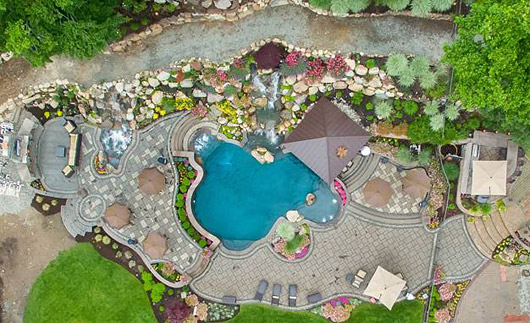 Hardscaping his own property gave Joe an opportunity to show clients the possibilities they might be shy to choose otherwise. For example, he built a waterfall much larger than his clients typically request. He built a swim-up pool bar structure beyond anything he's ever done before. He wanted to show prospects how much multiple levels can add to a project, so his project has 6.

Joe's property also showcases new paver styles and mixed paver styles that people shy away from. Joe says, "A lot of people are hesitant to mix materials. They're worried about changing colors and textures, and trying new things. Worst case, if I try something at my house and it doesn't work, I can always change it."



10 years to remove the hill

Project Profile

Design/build contractor

Monello Landscape Industries

Wayne, NJ

Joe Monello, CEO

Size of improved space

1 acre

Project value

Doesn't want to know

In-house work

Pavers/inlays/coping (5,000 sf)

Waterfalls

SRW & boulder walls

Bar & outdoor kitchen

Fire features

Lighting & audio systems

Excavation

Work by others

Major excavation

Pool gunite & Pebble Tec

Plumber & electrician work

Some trucking

Year completed

Ongoing

Getting to the point of installing pavers around the pool area took years. "I've been digging out that hill out for 10 years. The slope originally came all of the way down to the other side of the pool. We trucked out thousands of yards of soil to make it flat, usable space."

With the hill cut away, they built the boulder wall (with the big waterfall) along with a segmental retaining wall to hold back the remainder of the hill. From there, they installed the pool, irrigation and sod. Then came the bar.

"Building the bar held up the job for a long time, because it took so long between the engineering, the township, the approvals, the inspections, the cost. It was painful. Once we got that part done, we lived with it for the remainder of the season." (See photos and read more about the bar construction issues in the following pages.)

"In the second year we were able to open up the pool. We put a roof on the bar. With no roof it got so hot out there. The day we put that roof on was a great day."

In year 3 they finished out the project as it is now with the hot tub and the fireplace completed. Next, Joe's planning to build a pool house, a storage barn, more fire features, and no doubt additional things to be decided later.