Contractor Stories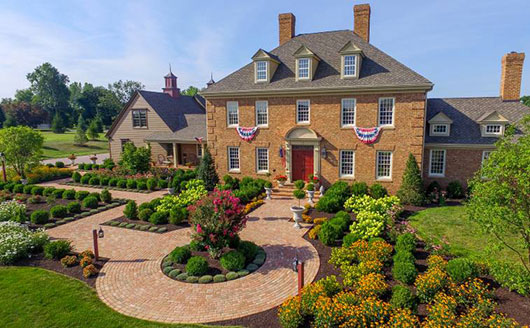 Awards aren't everything; but they help

By Tom Hatlen



Profile

New England Federal-Style project

Design/build contractor

GoldGlo Landscapes

Millersburg, PA

Project value

Not available

Size of improved space

7,500 sf of pavers

2-acre property

In house work

Master plan design

1,500 sf clay brick paver walks

4,500 sf concrete paver driveway

1,500 sf concrete paver patios

Circular seating bench

Fire pit

Window wells

Underground drain lines

Split rail fence

Landscape installation

Subcontractor work

Fireplace

Outdoor kitchen

Pergola

Arbor

Gas line

110 & 120 volt electrical

Work done by others

Lawn seeding

Audio/visual equipment

Landscape lighting

Irrigation

Year completed

2014

GoldGlo Landscapes' "New England Federal-Style" project is 1 of 7 of the company's Hardscape North America Project Award winners since they began entering projects in 2015. This project won an Honorable Mention for Residential Combination of Hardscape Products more than 4,000 sf in 2018. They've won several additional awards thru other programs.

GoldGlo President Steven Stoltzfus says, "First off, it's huge for employee morale. We announce it to the whole company. We try to take the team (5 or 6 people) that worked on that project to Louisville, KY for the awards ceremony to personally accept the award. So that's great for team-building. Everybody is excited that they were part of creating that award-winning project."

Steven says the company's track record of award winning projects also builds instant credibility with prospective clients looking to hire a design/build contractor. Awards carry extra weight when they come from the organization that sets engineering construction standards for the work such as ICPI.

Winning awards also raises the bar for GoldGlo employees. Steven says they now expect themselves to produce an award-winning level of work in both design and construction. So, even those projects that don't win are done at a very high level.

Advice for winning an award? Steven recommends hiring a photographer. He believes professional photography gives them the best shot at winning. "You need really good photos to be able to show the project in its full potential. It can take a full day to really get everything set up properly to capture the project in its best light."



Submitting awards

The company's 2 Design-Sales Consultants write up award submissions for their projects. They work with the company's designer and serve as the client's main contact from the time the lead comes in until construction begins. From there, a Project Manager (super foreman) becomes the client's main contact.

"Our Design-Sales Consultants have a great working relationship. It's a friendly competition. They know there will be enough good leads coming through the door in a year's time that they will each get plenty of opportunities to design award-winning projects."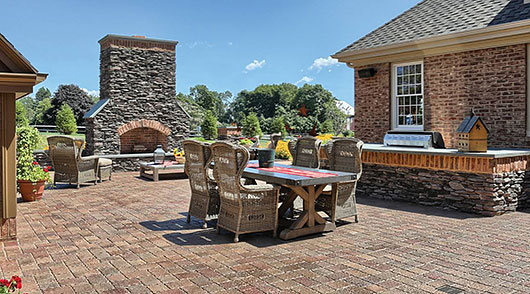 The lead for the "New England Federal-Style" project came from GoldGlo's irrigation subcontractor who had worked with the client at their previous home. "We send him a lot of work. We are loyal to our subcontractors and vendors. We work with the best in each trade and take care of them. I think he felt comfortable that we would take good care of his client."

During the initial onsite consultation the client agreed to hire GoldGlo to create a design. Steven says their design fees range from $500 to $5,000. "We explain our design process on the first contact with a client. If a client is not willing to pay for a design they are not the right client for us, and we may not be the right contractor for them.

"We are designing outdoor spaces which are an extension of the home. There is a lot of detail and time involved in designing an outdoor living space. Home builders charge a fee for house plans and it should be no different for creating outdoor living spaces."



Winning over the client

Steven believes the key to winning over clients is listening. "At the end of the day, that's really what won the project. It's all about listening to the client's desires and needs, and placing that above all else, and providing a solution."

In this case, the client had a very specific style she wanted. Federal-style architecture was popular in the New England states between 1780 and 1830. Steven says, "Landscapes in that era were very formal. So think cobblestones, boxwoods and straight lines, burning bush hedges."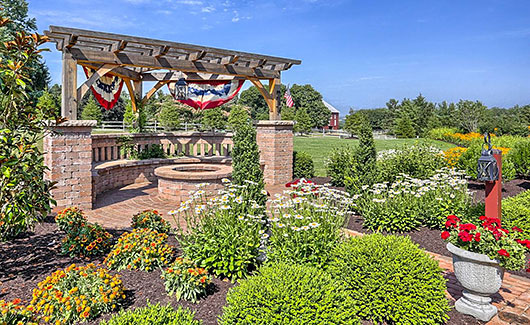 The challenge was to 1st, to become knowledgeable in the specifics of the Federal style, and 2nd, to determine exactly what the client wanted within that style. "The client knew the style well. It put us out of our comfort zone in that it was really the first large design that we had in that style. We spent hours and hours and hours working through the design and showing her samples of pavers."



You can't over-communicate

GoldGlo was brought into the project after the house was framed up. "We were still able to work with the builder on thresholds, landings, steps, things like that. On large projects like this, we want to be involved as early as possible, preferably when the client is designing the home."

The house was framed up, but still very much under construction. Steven says, "We were working simultaneously with the crew laying the brick and the crew installing the wood molding, soffit, fascia and gutters and everybody else on site. It's always a challenge on large projects, and you need a really good project manager in place to try to set it up for maximum efficiency for not only yourself, but everybody else that's also trying to earn a living on the project."

"We try to over-communicate. It definitely takes constant communication, and it takes shifting gears mid-way and doing things in a different order than you planned. We were able to work with everybody."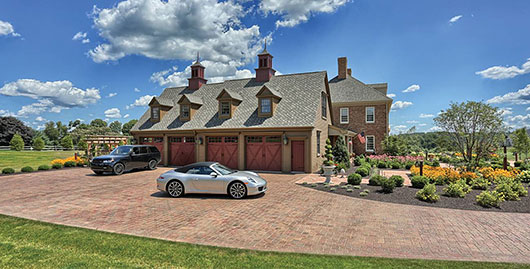 You can't over-plan

Steven says detailed advance planning is the other key to making project construction go smoothly, especially on a large project like this.

"We didn't really run into much that we hadn't planned for. We put so much time and thought into pre-planning that it helps to eliminate a lot of that. We figure out how the project will be built before we start. We set all the elevations on the property: final driveway grades, final patio grades.

"Then we hand off the project in detail to our Foremen/Project Managers. On this project, we had a hardscape phase and then a landscape phase. We brought everybody – the Design-Sales Consultant, the Project Manager and the entire crew – everybody who would be working on the hardscape phase into one room for a few hours. There will be a bunch of different sheets in the design, all the elevations, and everything gets handed off."

"Once the crew is deployed into the field, the Foremen/Project Manager takes full ownership of the project. They take pictures at the end of each day and give a quick debrief to the Design-Sales Consultant who only occasionally goes on site to check on larger projects like this one."

"This saves a lot of time. With our projects an average 45 minutes from our shop, we don't need our overhead team spending a lot of time running out for little things that could be handled by the Project Manager."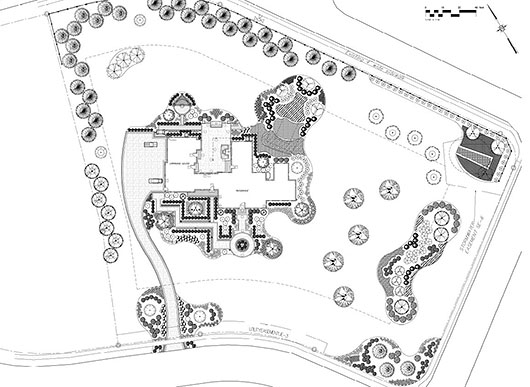 For this project, they began construction with the back patio because the masons and siding contractors were done there. Then they moved to the driveway which shut off all access to the garage. They did the front walk last because that area had been serving as the parking lot for all the contractors.

By focusing on award-winning quality, really listening to the client, good communication all the way around and detailed planning, GoldGlo satisfied a client, earned a fair profit and added another HNA Award to their mantle.

A final thought from Steven:

Awards are good for business, however, they are not the most important thing in business and life. My faith, family and friends are more important to me than winning awards. It is my prayer that I can be humble and realize that everything I have worked for on this earth is not mine. I am just a steward entrusted to take care of what I am blessed with in my short life on this earth. We can become too wrapped up in business and lose sight of what really matters. I don't think I will look back on my life when I am in my golden years and say, I wish I would've spent more time at work. Work is important, but we need to maintain a good balance in life.