Construction articles
Install hardscape lights to last...
...and to allow lights to be maintained and replaced without making a mess.

By Jeremy Sviben

With low voltage lighting, installation is one of the biggest areas where quality differentiates you from your competitors. Taking short cuts will come back to haunt you.

Start by building customer confidence in your work explaining the thoughtful steps you are taking to ensure easy future maintenance without tearing out hardscape structures.

I can't think of a worse reputation killer than a customer calling in a competitor after a few years because the lights don't work. Then the competitor tells the client he needs to tear out part of their hardscape to hunt for buried failed connections.

Accessible connections
If possible make your connections outside the hardscape area by running your wires back to a central point. If a large job, lay out a few locations. Bury the connections in an irrigation valve box. Use a permanent marker or labeler to mark under the lid what areas the wires go to.

If connections have to be buried within the hardscape consider using direct burial connectors that are tight and heat shrinkable. These types of connections are the most durable.

Replacable fixtures
Install fixtures so that they can be easily replaced. Leave a small loop of wire in the wall cavity. This will allow the lead wire to be pulled out if the fixture needs to be changed out.

Where there is no cavity to place a loop, you can bury a PVC wall box directly behind the location where you can coil the wire. These boxes are tough and you can compact around them tightly. They are available in stores' electrical departments.

Properly installed lighting is one more thing that helps build your reputation while adding revenue.

Jeremy Sviben grew up in his family's electrical contracting business and is president of Botanical Lighting a contracting firm in Medford Lake, NJ. Most recently, Jeremy launched LightingShrink.com fool-proof landscape lighting connectors.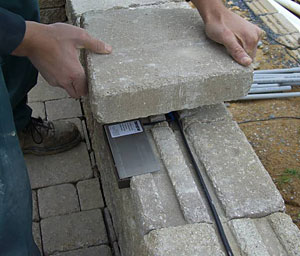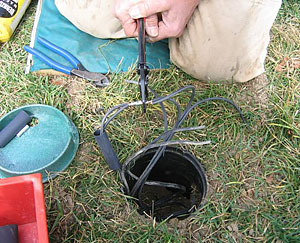 Run your lines outside your hardscape installation when possible and make the connections in an irrigation valve box where they can be accessed. Jeremy recommends using the LightingShrink.com connection system to ensure consistently tight, permanent connections every time. He says this is especially critical if the line is too short and you have to bury connections beneath hardscape work.

After 18 years installing landscape lighting, Jeremy is convinced that even conscientious lighting installers will have connections that fail. Twisting wire nuts leaves too much room for error in tightening and matching up wire strands perfectly. "We find 1 to 3 wire connections a year that caught fire."

The LightingShrink.com system uses a ratcheting crimper tool Jeremy developed. The tool catches as it crimps and the jaws won't release until completely compressed. "Then slip a shrink tube over it. Hit it with a torch. Done. No matter who crimps it, it's tight."