Articles written by guest contributors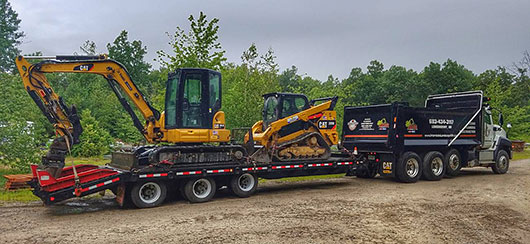 5 important tools for efficiency

By Bill Gardocki, Interstate Landscape

I have touched upon the subject of efficiency in the past, but this year it seems to be even more important as the labor force we are drawing from is shrinking. One way to make up for smaller crews is to have the right tools and equipment to pick up the slack. Because efficiency affects every function on our jobs on a daily basis, its importance cannot be overstated.

We must look into our tool sheds to make sure we are using the best, most efficient tools and technology available to do our jobs. We are very lucky that today we have so many options to choose from when it comes to our tools and equipment. I still remember the days of lifting 4' granite steps into place by hand. Today I would not even think of asking my crew to lift a 432 lb step (and neither should you)!

About 5 years ago I wrote an article about my "Top 9 tools." Thinking back to that article feels like a lifetime ago with more and more tools coming into the market to make our jobs easier and safer. We must keep up with the innovations to remain efficient in the age of downsizing.

I've learned a lot from my students at the University of New Hampshire. 2 facts stand out to me the most about the young people entering into our field of work. First, they are thirsty for information, and second, they have an innate ability to find new and more effective ways for getting the job done.

They thrive on learning the latest and greatest, they tend to pick up on things much quicker, and they expect that their employer will provide them the right tools. For these reasons, I wanted to write this article about 5 tech areas that are a little more advanced than some of us (old farts) are used to. Below are some of the latest and greatest we have incorporated into our daily work that have played a major role in our efficiency over the past 5 years.



1) Grading technology

Laser grading technology, like the Trimble Earthworks system, has changed our industry. Just this week my son Tom graded a 650 sf job with a 1% pitch from sitting behind the controls of a machine in no time at all. One person, no string, and a lot less hassle. I then used a hand grader to get the finished grade of the gravel base and used a 1" water line pipe to screed the finished bedding sand. Had I done it all by hand, it would have taken much longer and more man power.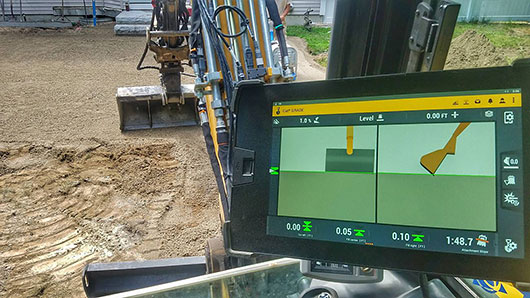 2) Level technology

I now carry a ZipLevel with me in my truck everywhere I go and I use it on almost every estimate I do. It is small, compact, easy-to-transport and even easy for one person to operate. This technology gives me accuracy for wall heights, number of steps needed, and any elevation changes that may be part of my estimate. In days past I would use a tape measure or scope and stick. This would often require 2 people to get accurate measurements. Editor's note: Visit SmartLeveler.com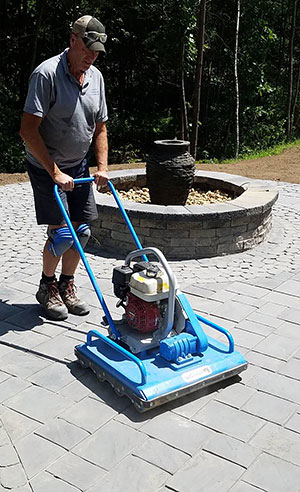 3) Compactor technology

A paver roller compactor is a must-have in today's large paver and slab world. No need to put plywood, carpet or pads on compactors, or to search around the job site for something to protect your pavers from a vibrating compactor plate. With pavers getting larger, the use of a roller compactor is getting more important. It is essential to buy or rent a roller compactor that gives you the correct embedment force. I always tell my customers and put it in writing that we are installing to ICPI specification. ICPI specification is to have a 4,000 lb centrifugal force machine embed your pavers, so pick a compactor that can meet the spec the first go around. This will save you time and hassle of compacting multiple times.



4) Trucks

One of the areas in our industry that I see as underappreciated is the correct sizing of our equipment. Often, I see guys in small 1-ton trucks hauling 2 pallets of pavers. No matter how you slice it, that's illegal! It's also damaging to your truck and dangerous. My full pallets weigh in at 2,600 to 3,000 lbs each. In order to haul that weight, we use 25,599 GVW trucks and a CDL driver for our bigger truck. No sense making multiple trips, when one can get the job done. Keep the trucks in good shape and follow the laws of your state. Remember what industry you are in and do not undersize your equipment.



5) Video technology

This tip may surprise you – but the time that today's video technology can save in selling a customer on your work can really pay off. A GoPro camera is small, durable and provides quality footage. We currently have videos of all types of work on our website so people can see what we do. You'll often hear me say to a customer, "Take a look at our website or check out the Dirt Ninja on YouTube to see jobs that are similar to yours." It allows customers to get an idea of the space needed to store materials, the inevitable mess we will make, and the culmination of all the pieces coming together for a final project. Then when you tell them they could also have a video of their job, well, it just blows them away.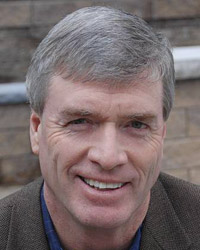 It can be hard to spend the money to buy the right tools and equipment for the work we do. However, if used correctly with the right crew, you will see the rewards and benefits in more efficient jobs (more money in your pocket), happier and healthier crews (less turnover), and customers thrilled with the end result (more referrals).


Bill Gardocki is the owner of Interstate Landscape Co. Inc. in Londonderry, NH, installing hardscapes for over 40 years. Bill has taught over 100 classes as an NCMA and ICPI certified instructor. He also provides hardscape seminars for dealer/contractor education days, and in 2013 became the Landscape Construction instructor at his alma mater, the University of New Hampshire. Contact Bill@InterstateLandscapeNH.com