Construction articles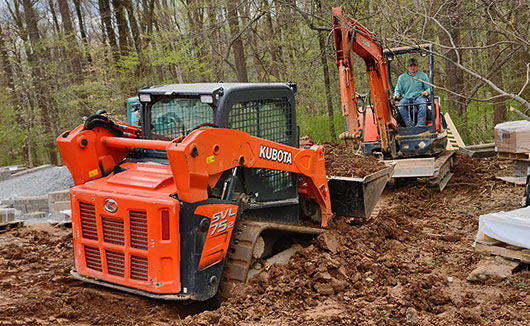 A wise investment or a shiny new toy?
By Jeremy Martin

We're in strange times, but I don't need to tell you that! We've got crazy demand. And with the labor shortage we're booked out even further. So we focus more on efficiencies. Everything is aligning for investment in equipment; I predict record crowds at HNA 2021 and unprecedented sales.

So, how do you decide whether that new purchase you're dreaming of is a wise idea? One day the demand for our work WILL taper off, and some will be stuck making payments on equipment they no longer need or can afford.

Now, I'm not afraid of business debt, but I don't want my life controlled by it eilther. Here are some ideas to consider as you make purchasing decisions.


How do you know if you can really afford it?
An accountant can give you a more detailed answer, but here are some basics. The first question is: Can I make the monthly payment if I haven't used the machine that month? If you're asking this question it may be a sign you should rent rather than buy. How much will you realistically bill out per month for this machine? Are you renting it now, and if so how much does it cost per year? Will your payments be more or less than the rental?

Allow me to illustrate the process we went thru in buying our mini excavator and compact track loader. First, the excavator… I rented for many years. There was a local small rental company that rented and delivered equipment for such a low cost that I couldn't justify buying. But… he went out of business (I can't imagine why!) and I spent a year paying way more on rentals than ever before from a different company – $5,000 annually. I decided I would be much happier spending $5,000 per year in payments on equipment I owned.

Having made the decision to buy, I had to size it. I had some criteria...


It had to lift our 1,000 lb plate compactor out of the dump truck and drive away without the blade being down.
It needed to swing the compactor out the side and lower than the excavator. (We do this all the time in the real world when working on walls.)
It needed a thumb to set boulders.
It should fit onto our existing equipment trailer and be towable with existing trucks.

I narrowed it to the Kubota KX121-3 and John Deere 35G, so I took the foreman along for some testing. The Kubota unloaded the compactor with ease. The John Deere needed the blade down. Hmm… Kubota 1, John Deere 0. We couldn't get a demo on the Kubota, but we could with the John Deere. We used the 35G on a walkway, and it was so smooth to operate. We all loved it! Kubota 1, John Deere 1. Great independent dealer offering the John Deere, and I really wanted to support him.

But… the Kubota had superior reach and lifting capacity. The John Deere 35G could be had in a long arm, but they were hard to find. John Deere's next size up was the 50 which didn't fit our current truck & trailer combos. In the end, the Kubota got the nod. It was the biggest excavator we could run with the current setup:


The excavator weighs 9,300 lb. We can haul the excavator and attachments on our 14K trailer and just squeak by on weight.
A 14K trailer is still legally towable by every truck in the fleet, including the F250 crew cab that is used mostly for meetings and as a runabout. We already had the trailer in the fleet.
Our F550 cab & chassis dump trucks were rated to conventionally tow 16K at the time, and we couldn't have gone much larger without upgrading the truck.

That was a few years ago, and now we're almost outgrowing this excavator. We'll need a bigger excavator, a bigger trailer, and possibly a bigger truck in the future. The next excavator will get outfitted with a Rototilt. But for now, we're running the biggest and most efficient machine we can.

We found that we are much more efficient when we can keep an excavator we own onsite through most of the project, rather than rushing through excavation to return a rental ASAP to cut rental costs.

Owning the excavator, we use it for more things. We use it for setting slab steps, swinging SRW block into tight access areas, loading spoils directly onto a truck, and pulling aggregate off the truck to place it directly in the footer. We haven't just saved on rental costs, we've saved a lot with increased efficiencies.

Moving on to the compact track loader. We had some criteria here too.


It needed to be able to lift a full skid of pavers off a truck.
It needed AC and heat.
It needed the ability to open the door without the bucket totally flat. This meant a door that swings up rather than out.

At HNA 2019, I asked the hardscape foreman to check out all the CTLs that he could and gather the specs. Kubota and CAT were on the short list as both have good support locally.

Only Kubota had a swing up door, so we bought one and put it to work in February 2020. It keeps going on jobs where rain would have shut us down with a normal skid loader. We have never regretted the purchase! We can now do more jobs in worse weather and do it more efficiently.

In summary:


Crunch the numbers.
Research weights and specifications to make sure it's the best fit for your current fleet and the work you do.
Involve the crew if possible and get their feedback. They'll probably get more seat time than the owner.
Get a demo or rent more than one brand to better evaluate performance.

If you haven't made the trip to HNA yet… plan for it this year! It's going to be amazing.


Jeremy Martin co-founded Willow Gates Landscaping in 2005. He became an ICPI instructor in 2016, NCMA in 2018. He also founded Dust Killer Tools to help his company meet 2017 OSHA silica standards. Email Jeremy@DustKiller.tools. Visit WillowGatesLandscaping.com and DustKiller.tools