Contractor Stories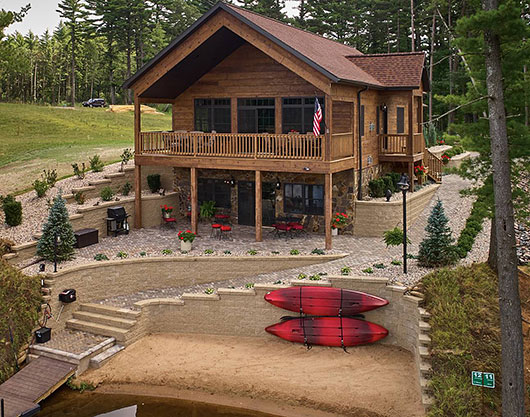 Lake work walls, permeables & cranberries

Waterfront properties comprise 99% of Progressive's work so they do lots of retaining walls and permeable pavers.


By Tom Hatlen

Contractor Brad Tork gets nearly all his work through referrals from 2 companies, Pavloski Development and Point Log Homes. And, nearly all that work is located in 2 developments 1 hour apart in central Wisconsin, Nepco Lake and Castle Rock Lake. Once the referral comes in, there's a more than 75% chance he'll win a contract with the homeowner.

His company does award-winning level work, and nearly all of the referrals align well with his crews' education and experience. Brad says "99% of the properties we work on are waterfront properties (mostly vacation homes). So, we do a lot of retaining walls and a lot of permeable pavers."

This hardscape project won a 2019 HNA Project Award for Residential SRWs. Brad says designing the project was easy because the homeowners had a clear idea of what they wanted, and even drew a sketch of it. Brad pulled their ideas together into a plan and worked with the clients to select materials. That's his primary job these days since he no longer works on the crew.

"Then I talk to my team to make sure that they can do what I think we can do before I commit to the homeowners."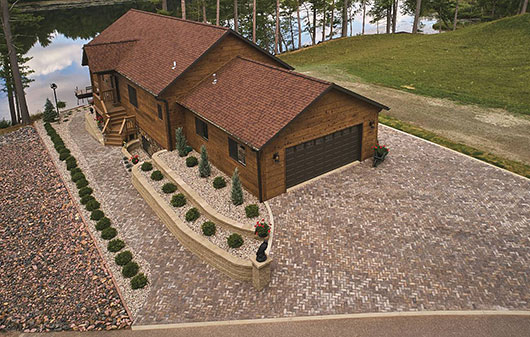 Profile

2019 HNA Project Award Winner - Residential SRW

Fly Rod Trail Residence

Wisconsin Rapids, WI

Design/build contractor

Progressive Landscaping, LLC

Wisconsin Rapids, WI

Project designer & manager

Brad Tork

Project size

3,000 sf property

Project value

$95,000

In-house work

Retaining walls – 1,200 face feet

Permeable pavers – 2,686 sf

Plantings & landscaping (supplied by Wolosek Landscaping, Wisconsin Rapids, WI)

Excavation

Work done by others

Concrete curbing (poured by Joslin Concrete, Wisconsin Rapids, WI)

Project start

May 1, 2017

Project completion

June 30, 2017

Hardscape & cranberries

Brad says his team is extremely capable. 4 out of 6 people on his crew are full-time and they've nearly all completed ICPI & NCMA certification classes. Education was one of the keys to transitioning Progressive Landscaping 8 years ago from a lawn maintenance firm into a design/build company, mostly hardscaping.

But, you won't find a website for Progressive. Brad says he doesn't need it. Pavloski Development and Point Log Homes give him all the work he can handle. Both companies are healthy and growing strong so he's not concerned about "having all his eggs in one basket."

Plus, Brad has 3 other businesses that keep him busy. He and his father run a sand and gravel business and 2 separate cranberry marshes (farms). He says, "The different businesses make for interesting days, that's for sure."



Building the project

Like most jobs, Brad's crew began building this one by the water and worked their way out. With house construction recently completed, the balance of the property was a sandy hill cleared except for a few large pine trees the homeowners wanted to keep.

In keeping with the developer's guidelines, the crew kept their equipment and materials within the property's boundaries even though the adjoining properties were largely unimproved at that point.

"To get equipment and materials back there, we had to do some planning so we didn't paint ourselves into a corner. The areas to the sides of the house were just wide enough for our skid steer and our little mini excavator."

The developer's guidelines also prohibited staging materials in the street, and there was little room for staging on the property. Instead, their hardscape supplier graciously allowed them to store materials in the supplier's yard.

Brad says, "County Materials is only about 2 or 3 miles from that project site so it actually was pretty convenient. We went there probably once a day depending on what we were working on.

"I worked with my sales rep, Mike Mancheski, to coordinate all of that to make sure we had everything on hand when we needed it. There was a lot of product. They had to bring it in from other locations, so there was constant communication."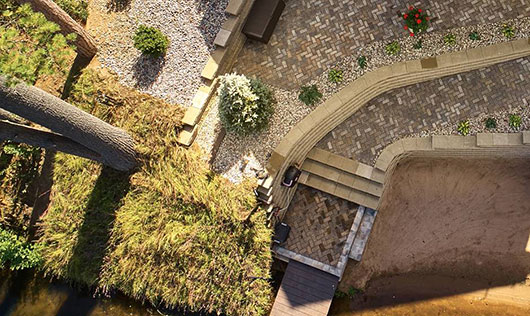 Sand everywhere

Sand is another common element of Progressive's lakeside work. This entire property was sand front to back. Brad says the sand provides great drainage as backfill behind the walls. But building walls requires a lot of extra excavation to keep sand from constantly flowing back in.

"We excavate about 3' farther back at the bottom. If it's a tall wall, you obviously have to make a slope out of it, so there's probably 6' to 9' back at the top. Then, we use geogrid in all of those walls to make sure that they didn't move."

The sand is also great for allowing stormwater to percolate through the permeable paver installation down to the aquifer. Aside from any regulations, Brad says, "If we're building close to a lake, permeable pavers are just an easy way to handle all stormwater run-off. On this project there was no other good way to deal with water from the roof and all the hardscape."

He says if they're building further away from a lake they have more options for drainage and permeable pavers aren't as necessary. But that doesn't happen very often in his lake shore business of retaining walls, permeable pavers and sand.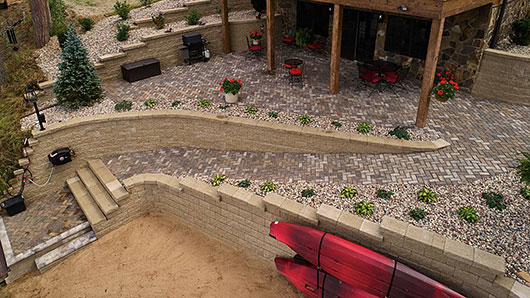 Vacation maintenance program
Brad says 90% of his hardscape installation customers sign up for Progressive's optional annual maintenance program. These are largely vacation homes clients want kept up for their weekend visits. The agreement normally doesn't involve cleaning and sealing pavers.
"We do beach maintenance, and we maintain the landscaping and the shrubs and keep all that river rock as weed-free as we can. On other properties that have lawns, we do the lawn mowing. I sub out the fertilizer and irrigation maintenance."