Construction articles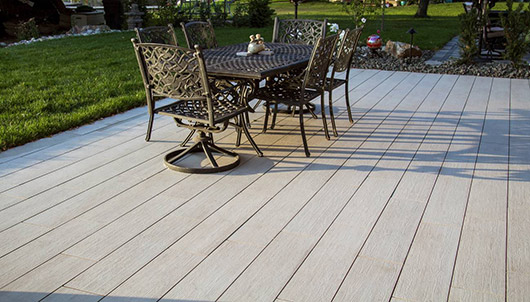 Porcelain pavers have arrived

Porcelain pavers' light weight, strength and beauty have taken them far in just a few years.

By Tom Hatlen



The installation methods recommended in this article are the opinions of those interviewed. Because specifications for various porcelain products differ, please consult your manufacturer for installation advice on their specific products.


At HNA maybe 5 years ago there was a single small booth in a back corner marketing porcelain pavers. This year a substantial portion of the show floor will be devoted to porcelain with a multitude of exhibitors.

Contractor John McDonald started installing porcelain about 2 years ago for high-end single family homes. He says, "I get phone calls every day from people interested in porcelain. It's crazy. Now it's probably 15% - 20% of my business and growing."

The demand has been high enough that the School for Advanced Segmental Paving brought in trainer Pat McCrindle to teach a class on porcelain installation this past winter.



Porcelain is glass

Pat says, "Basically it's glass. So porcelain has different installation requirements. Traditionally porcelain's been an interior application. But with the new technology like the HydraPress process, the porcelain has a very high tensile and compressive strength. You can't scratch it. You can't stain it. There's really no degradation with the climate, freeze/thaw cycles, ultraviolet rays with the sun. It's just a very versatile, very resilient product that keeps its look."

Today's porcelain paver material is so strong that standard 3/4" (20mm) thick porcelain slabs as large as 2' x 4' are commonly supported only by pedestals at the corners, and hold up to pedestrian traffic just fine. Some porcelain is now rated for vehicular traffic, typically mortar set on a poured concrete base.







Porcelain applications

Porcelain is very light, about half the weight of a comparable concrete slab. At only 9 lbs per square foot 3/4" porcelain has been very popular for rooftop applications built on pedestals.

Its light weight also makes it very attractive as the surface on backyard wooden deck structures. You can do a porcelain overlay on the deck joists using the SilcaGrate system.

Pat says porcelain can be a good option for raised patios, especially those over an existing concrete slab. "Say the existing concrete slab is 600 sf 3 steps down from the back door. With 8" risers that's 24".

"To build a raised patio you would need to fill that 600 sf with 24" of aggregate. You're looking at well over 25 tons of material plus all the labor to get that in place and compact it. If you do a pedestal system instead, you eliminate those things."

Pat is seeing more porcelain installations done on grade as well. "It's being used for residential driveways, pool decks, patios, sidewalks.... I think the numbers are changing rapidly."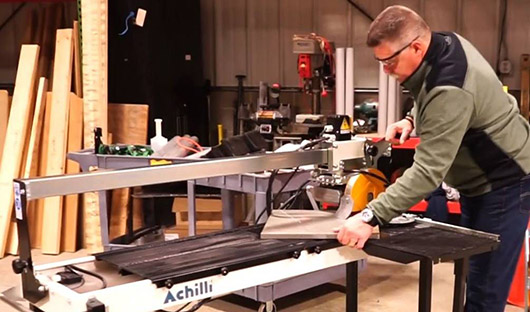 Take the plunge

Pat says taking on something new like porcelain is always a challenge. "The major issue is estimating labor for something new. We know how long it takes to lay 1,000 sf of interlocking concrete pavers. But how long does it take to lay 1,000 sf of porcelain in a random pattern on pedestals with 2' x 2', 2' x 3' and 2' x 4' slabs?"

He says you just need to dive in. "It's a matter of trial and error. It's getting on the manufacturer's chat rooms and talking to the salesmen. Reps are an invaluable source to the contractor when they're trying to determine labor. Utilize those resources as much as you need to until you gain the confidence you need."


Pat McCrindle is a regular trainer at Hardscape North America, the School for Advanced Segmental Paving and other hardscape industry events. He was a hardscape contractor for many years and is now a representative for the Abbotsford Aristocrat line of porcelain products.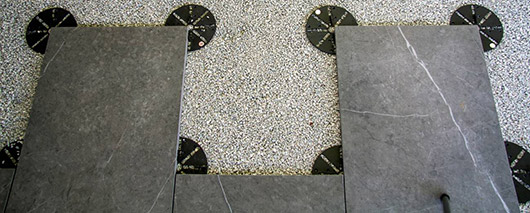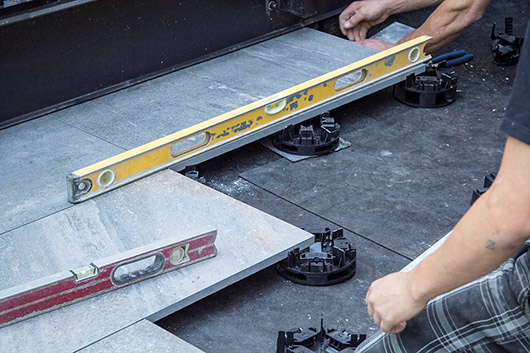 Porcelain overlay on poured concrete base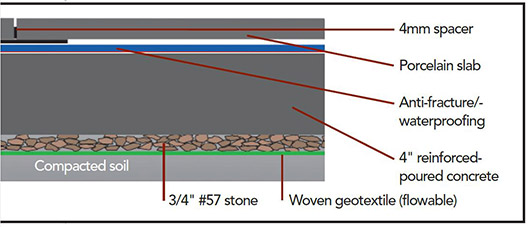 Porcelain on pedestals

Permeable porcelain installation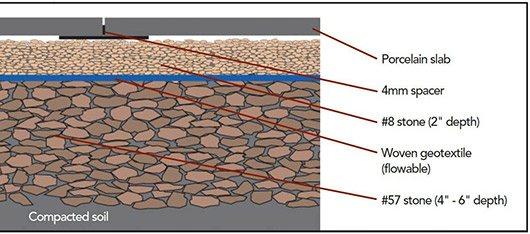 Dry laid porcelain on high-density foam panels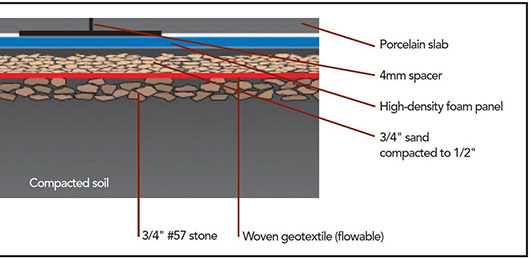 Porcelain on Silca System grate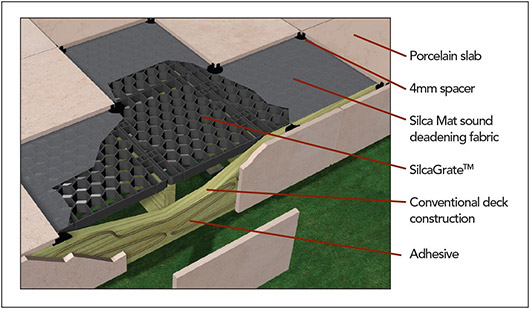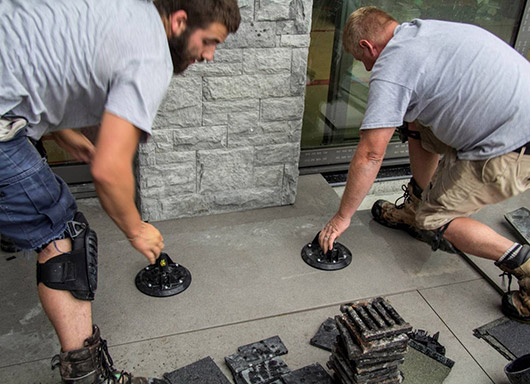 Contractor tackles porcelain
John McDonald got into higher-end projects partly by taking on new things, like porcelain, and taking it upon himself to become an expert in the different application methods. As such, his competition is limited and his schedule is booked out 2 to 3 months.
John started installing porcelain about 2 years ago when it first became available thru his dealer. Today it's a profitable 15% to 20% of his business.
About 80% of John's porcelain work has been on pedestals while the other 20% are on grade. The bulk of his clientele consists of builders and architects on upscale 10,000 to 15,000 sf homes. They hire him on behalf of homeowners.
Porcelain rooftop patios (on pedestals) are popular with his customers. "It may be that each bedroom has its own outdoor patio, as well as a larger common area with outdoor kitchens and overhead heaters. People want to maximize living space on their property so it makes sense to build upward if the outward space is limited."
He says the square foot cost to install porcelain is nearly 2x that of installing concrete pavers, but that the customers he serves are unconcerned with that. They want the look, and they're willing to pay for a high quality installation.
Profile
J. Mac Contracting Ltd.
North Vancouver, BC
Founded 1985
John McDonald, President
Customer base
100% High-end residential
Services
90% hardscape, 10% drainage
Project price range
$10,000 - $200,000
Annual sales
$750,000 - $1 million
Employees
6
Installing pedestals
John says doing quality installations on pedestals is time-consuming because you have to carefully level each slab. "The nice thing about pedestals is that you can have a sloped deck and the pedestal adjustments allow you to have a dead level patio. We'll go from nothing to 2' at times, to make it perfect."
They use pedestals to install porcelain on concrete and on roof decks. He says installing porcelain on pedestals isn't much different than installing precast concrete slabs which he's been doing for years. But there are differences.
"The weight of a concrete slab will hold it in place for the most part, whereas a porcelain slab is much lighter. So, you have to measure accurately and make sure it's laid extremely tight, otherwise you'll get shifting. All the edges either have to be glued or shimmed tight against the wall, or you'll end up with irregular joints.
"Once you learn the nuances, it goes pretty easy. My guys like it because it's lightweight. I can go to a job, explain it to my crew, and leave knowing that they're going to do a bang up job because they know all the ins and outs. But, I don't leave very often."