Articles written by guest contributors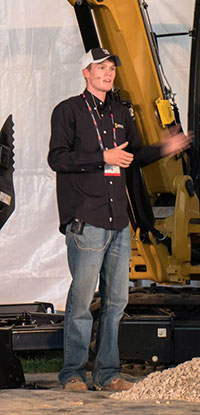 Next level tools for hardscaping

By Tom Gardocki

My father always likes to remind me about how tough he had it. "Back when I was young we used to lift 4' granite stairs by hand and set them!" When I ask him why he laughs and says, "It's just the way it was done… I sure wish I had all the tools we have now when I started out."

Today I set those stairs with a powered suction tool attached to my mini-excavator while I sit in the air conditioned cab with the radio playing. We're lucky to live in a time when there are lots of machines, equipment, trucks, tools and technology to help make our work easier and our jobs more efficient.

For this article I'd like to tell you about some "next level tools" that we use on our job sites in addition to the top 3 next level tools that 2 other hardscape contractors recommend. I talked to Josh Jones and Andy Mulder for their favorites.

Josh Jones
Mass Hardscapes
Holliston, MA

Andy Mulder
Mulder Maintenance & Services
Crown Point, IN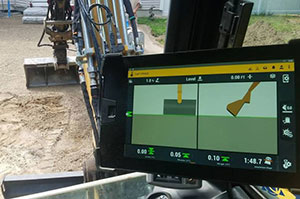 Trimble Earthworks 2D Grade Control

I'll start with the Trimble Earthworks 2D Grade Control for our mini excavator. This can be added to any size and any brand machine. This system uses sensors all over the machine as well as a screen in the machine to give you real time depth to grade. It eliminates a person holding a grade rod to check grade. This has sped up our jobs as well as freed up a laborer to do other more useful things than hold a grade rod.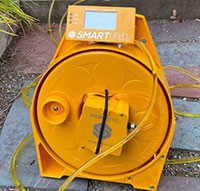 Altimeter

One of Josh Jones' favorite tools is the altimeter. He says, "I have both the Ziplevel and the Smart Level and couldn't imagine measuring grades on jobs without one. Altimeters save a lot of time and hassle when figuring out grades and take the guessing out of estimating."



Weber COMPATROL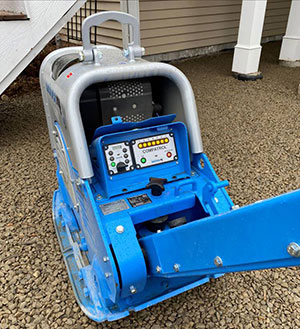 Proper compaction equipment is one of the most important keys to installing a long-lasting hardscape. With compaction equipment, bigger is usually better. We use a Weber CR8 with 16,800 lbs of centrifugal force, equipped with COMPATROL to do the majority of our aggregate compacting. This machine allows us to do larger lifts, thus taking less time. The COMPATROL tells us when the material we are compacting is at maximum compaction.

COMPATROL is one of Josh's favorite tools as well and adds, "Having COMPATROL on our larger reversible plate compactor not only gives us more confidence in the longevity of our installs but helps save time on compaction instead of wasting time compacting fully compacted base over and over."


Mini-excavator compaction attachments

Compaction attachments for our excavators have greatly reduced compaction time as well. We have an Engcon Plate Compactor as well as a Compaction Wheel from MBW. These compactors deliver great results and allow us to compact faster as well as compact areas that would be very difficult with a traditional walk-behind compactor. There is nothing better than compacting and never having to leave the cab of your machine!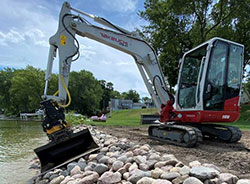 Engcon Tiltrotator

Andy Mulder included the Engcon Tiltrotator in his favorites. He says, "This tool has completely changed the way we do every job. We now take the mini-excavator to every single job because of how much it reduces labor. I have even taken it to mulching jobs to be able to scoop out of the back of a truck and right into the bed placing the materials exactly where needed. It's truly a game changer in the landscape and hardscape world."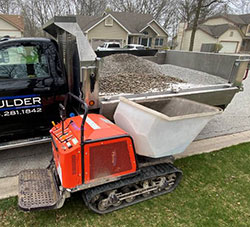 Canycom Pivoting Dump Buggy

Andy also recommends the Canycom Pivoting Dump Buggy. He says, "This tool has earned a permanent spot in our hardscape/ landscape trailer daily. Since getting this, we have 4 wheelbarrows that are rusting at the shop because they never get used. From moving dirt, rock, mulch and all things in between, to carrying all the hand tools and supplies to the work area and back, this machine has allowed us to increase efficiency on the jobsite 10 times over. I would never landscape or hardscape again without one. It's part of the crew."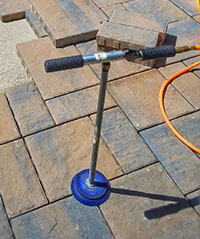 Suction tools

Suction tools have completely changed the game of laying pavers, setting steps and lifting heavy hardscape features. We use our 1-man suction tools from EZG (formerly PaveMor) to lay our larger slab pavers. The tool saves our fingers and backs. Josh adds, "Our machine mounted suction system from Pave Tool is probably my favorite tool for installing hardscapes. The system allows us to set large format pavers and natural stone all the way up to 2,400 lb granite landings with our excavator, eliminating straps as well as lots of physical labor."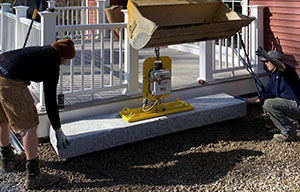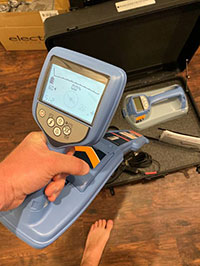 Cable Locator

Andy is a fan of Cable Locators that give a depth reading. He says, "I purchased this about a year ago and it has been great. We still get our locates done on every job for liability reasons, but having the ability to find exact depths of those utilities is a serious time saver. We are able to dig with machines when we know the depth where the utilities are. We also use it to locate drain lines, lighting wires, and unmarked or private utilities. It's not a cheap tool but it has saved us so much time on the job when trying to find something, and being able to use equipment to dig instead of shovels."

Tom Gardocki has worked in his family's hardscape company, Interstate Landscape Co., Inc., Londonderry, NH, for 21 years. In addition, Tom and a partner launched an excavation company, New Era Excavation, in 2015. Having created over 600 jobsite videos on his YouTube channel Tom is known to the online world as "The Dirt Ninja."