Contractor Stories




Learning to share

By Tom Hatlen

Contractor Josh Jones is all about learning and sharing what he knows with other contractors, even local competitors. He spends his free time helping out other contractors thru 2 Instagram pages and a YouTube channel. A 3rd Instagram page started just this year is aimed at homeowners.

Josh has also participated in the Installer Competition at HNA twice and the Northeast Hardscape Expo once. He has been Bill Gardocki's "right-hand man" presenting HNA hardscape demonstrations.

At press time Josh's longest running Instagram page (2+ years), @mass_hardscaper, had 4,724 followers, mostly other contractors. Instagram is a photo-sharing website with space where members can offer comments. On @mass_hardscaper they discuss construction techniques, tools and jobs in progress. Josh recently partnered with 4 Massachusetts contractor buddies to create a similar Instagram page that goes beyond hardscaping called @creatinglifeoutdoors.

Josh says clients like to check out his contractor pages. "I know our social media presence has definitely been huge for us. I've had a lot of customers who have told me they found me through YouTube and Instagram. This year I've probably gotten a good handful of jobs through Instagram, and 2 or 3 through YouTube."

Josh started his company 3 years after graduating from the 2-year landscape program at the University of New Hampshire (UNH) where Bill Gardocki teaches. Josh spent those 3 in-between years gaining experience as a foreman and a sales rep, and doing a lot of planning and saving to start his own company.

After 2 years in business, sales are on track to hit a profitable $600,000 this year, and Josh has received a job offer to train contractors for a manufacturer.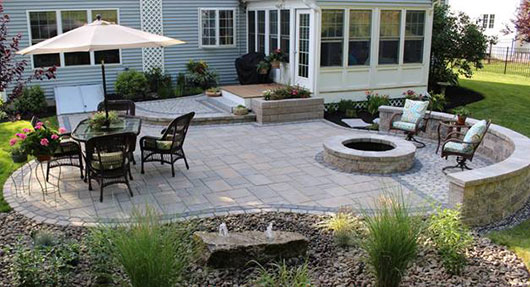 Hardscaping & pricing

Josh says he declined the job offer because he isn't ready to leave contracting yet. "I would love to eventually get into teaching in some capacity, but right now I'm enjoying what I'm doing."

90% of what he's doing is hardscape work. He says, "Bill showed me the potential money we can make and the enjoyment you can get out of it."

Bill says, "In the [UNH] landscape construction classes I try to influence students on pricing immediately so that they don't under-price anything. Very few contractors in our industry price correctly. I can't tell you how depressing it is to go out and teach ICPI classes and find out what guys are charging for their work."



Sharing well with others

Bill says many contractors are also not good at sharing. "That's what I find in my classes. It's like this secret society or something. I'm like, 'No, you guys need to share this information. If we're all doing it correctly, we can raise our prices accordingly.'"

Josh says he took Bill's words to heart. "I just felt like I had a calling. I had people who invested in me so I want to try to help other people and make their lives easier and make their businesses more successful. There's enough work out there that we don't all need to be enemies."

Josh keeps in touch with plenty of other contractors who also help him when he has questions. "It really helps having friends in the industry. Last week I called a friend who owns a company in Rhode Island because I had to install pool coping on a new pool install, and I hadn't done it before. It's great to talk to somebody before launching into something and wondering if there's a better, easier way. I'm all about doing it right the first time and making your life easy."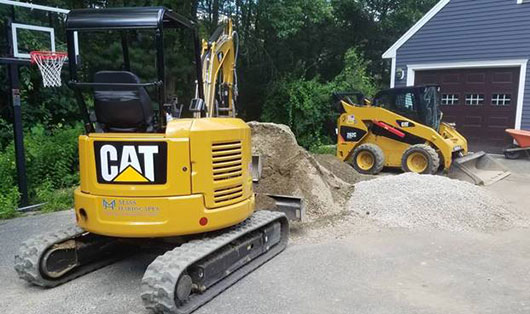 The opening website video

Josh is very conscious of how he presents his company online. It starts with his website. The aerial video on his website homepage (MassHardscapes.com) is a professionally done production you would expect to see from a much larger company.

Josh says he lucked out when he learned one of his employees had experience in videography. He says the video cost maybe $275 total between 7 - 9 hours overtime pay for the cameraman plus beer for the client. "If I had hired somebody, it would cost a lot more."



Profile

Mass Hardscapes

Holliston, MA

Founded 2015

Joshua Jones Owner

Instagram

@mass_hardscaper

@masshardscapes

@creatinglifeoutdoors

YouTube

MassHardscaper

Customer base

100% residential

Services

85% hardscaping

15% landscaping

Project price range

$5,000 to $100,000

Annual sales

$600,000

Employees

3

The people in the video are the clients, their family and friends just acting naturally. Josh says they were excited about the project, decorated the area and supplied the food. "They're big craft beer fans, so I bought some for the party. Then on social media posts, we tagged those local breweries, so then they'll repost our pictures and we get a little free advertising."



Time-lapse job video

You will also find time-lapse job videos on MassHardscapes.com and on YouTube channel MassHardscaper. Josh credits Bill's son Tom Gardocki (YouTube DirtNinja) for getting him started on this.

The videos show nearly every moment of a job's construction from beginning to end.
"I've had a lot of clients actually find me because they've come across the time-lapse videos. That's the first thing they say: 'We love watching your time-lapse videos.' It shows them what goes into a job and how their yard's going to look during construction. So, they're not shocked when we destroy their yard."

Josh says making a time-lapse video isn't that hard. He puts his GoPro camera on a tripod or on anything handy that offers a good overview of the site. "I set it to take pictures every 5 seconds and pretty much let it go. I change the batteries out and I try to be mindful about moving it so it's not the same shot for the whole day. Then when the job's done, I edit out the parts where nothing is going on. It's pretty easy."



Get serious about photos

Josh is also very focused on presenting his company's work through photography that he takes himself. He doesn't rely on snapshots with a phone camera.

"I schedule photo shoots at a site for 3 or 4 hours with a $2,500 GSR camera (Canon 7D Mark ii). That way we get good photos, and I don't have to pay for a professional photographer. Once you really get into it and learn how to operate it properly, you can get great photos. It's worth the investment."

Josh says he hasn't gotten any pushback from clients on coming back for a photo shoot. "Most of them are all for it. They want their projects to be in these videos and featured on my website and social media. I give them plenty of notice and I usually do it on a Thursday night when they're not using the space."

Bill believes Josh's willingness to share his photos, videos and expertise will take him far. "He's going to be one of those kids that is offered multiple opportunities because he has put himself out there. There are very few contractors who are willing to do that."