Contractor Stories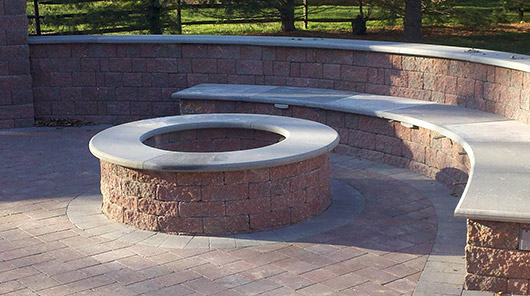 Hardscape installer champ, HNA demo builder, masonry expert

Bobby Cooper shares what he's learned installing hardscape, masonry and poured concrete almost 30 years.

By Tom Hatlen

Bobby Cooper became the go-to guy for pavers way back in 1988 when he was working for his father's masonry/poured concrete contracting company. His father was sold on pavers from the beginning.

"Once my father saw them he made me to go to all the seminars around to find out all the information I could. Within 6 months we were installing pavers."

Today, dry-laid paver and retaining walls are over 90% of Bobby's work, and now he's the go-to guy when another contractor needs hardscape help or a supplier needs someone to fix a homeowner's hardscape problem.

For 7 years, Bobby's also been the installer Hardscape North America has looked to for building their demo displays. This year he'll be building displays and doing demos for Landscape Ontario's new Hardscape Live! event.

To top things off, Bobby won the 2015 HNA Installer Championship along with his partner Daniel Kramer Jr.








Years installing masonry, concrete and pavers

Bobby grew up doing a lot of poured concrete work. They also installed a variety of brick and block masonry work and veneers. He says they transitioned to dry-laid work because it's more profitable in his part of southern New Jersey than poured concrete work. While pavers require more labor, pavers command 3x the square foot price of poured concrete.

After his father passed away, Bobby ran the company until 1999 when Pat McCrindle and John Wangler of McCrindle Wangler Paver Systems (MWPS) made him a job offer he couldn't refuse. He ran crews and trained scores of workers at MWPS for 7 years. When the partnership broke up about 10 years ago, Bobby returned to running a company of his own.

Years installing masonry, concrete and pavers give him a unique perspective. Bobby custom builds things like pizza ovens and fireplaces from scratch. He is a wizard at cutting Pennsylvania Bluestone with a hand-held gas cut-off saw. Plus, he carries specialty masonry tools like a wet grinder with a diamond shaper head to cut a bull-nose edge into stone and concrete.



Specialty expertise

With these additional capabilities and a helpful demeanor, people call Bobby to fix problems for them. Most recently a contractor who's been a friend of Bobby's for 25 years needed some help with a brick oven. Bobby says his friend built "an absolutely beautiful" travertine patio, a deck and a full outdoor kitchen.

But there was water in the brick pizza oven when the crew tested it. The water turned to steam causing the oven to crack. Bobby's crew could build a replacement oven for a fraction of the price the contractor had paid for the pizza oven kit.

"We've always built handmade brick ovens. We'll buy ladle fire brick and we'll cut all 4 sides on the angle and build a dome that's self-supporting, and then we'll disassemble the dome and do a fire-resistant mortar on it and reassemble it."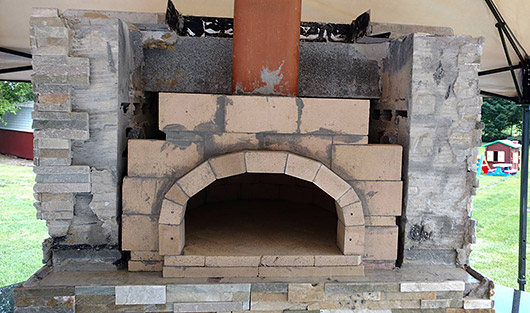 Cooper Pavers

Mannington, NJ

Founded 1989

Robert Cooper, Owner

Customer base

95% Residential

5% Commercial

Services

100% Hardscaping

Largest project

$160,000

Average project

$9,000

Jobs per year

About 40

Employees

6

Mr. Paver Repair

As a hardscape-only contractor, Bobby says half his work comes from landscapers. Vendors also recognize his skills and refer new jobs as well as a lot of repair work. Bobby says, "I hate repair work, but I don't turn down work."

Even though repair work can be full of surprises, Bobby doesn't like charging time & materials. "The only time I charge time & materials is when I'm helping out another contractor who's in a bind, like when I helped my friend with the pizza oven."

He's done enough repair work that he feels confident that he can price it accurately. Plus, he likes to challenge his people to beat his estimate.

"It costs twice as much for a repair as it does for an installation. The tasks are doubled. I'll go in and estimate how long it'll take to pick the pavers up, sort them, clean them, re-stack them, and get them ready to re-lay. I give myself a 10% to 15% leeway on how much time it's going to take to complete each task. If that adds up to 10-hours, the object of the game is to get finished before that 10 hours. That only happens if you're efficient.

"I always plan for worst case scenarios. I'll put a stipulation in the contract so that if I open up a can of worms there, I am protected. So, if we take it apart and everything has to be torn out and the base has to be replaced, that's covered.

"If I find it's just a small issue, say the elevation sank because they did not fabric up the area against the wall and sand bled through, then I can do it cheaper. It's written in the contract."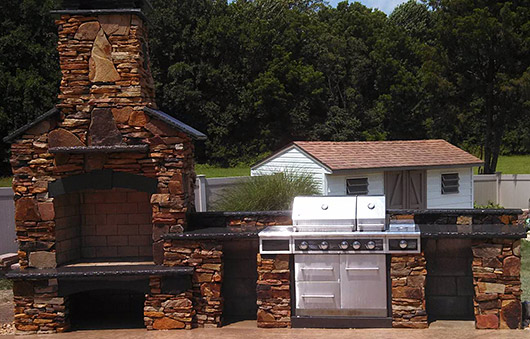 Field work at 52

With a business to run, Bobby can't spend all his time working in the field anymore. But, he feels it's important to get out there and get his hands dirty on a regular basis.

"When it comes to laying the pavers, I'm out there bent over with the rest of the guys. And, I'll pick up a shovel and help, because the morale on your job is one of the most important things. When your employees see you give an honest effort when you're on the job, they respect that and they will work hard for you."

But, Bobby says he's got to be realistic about how much he can do at age 52. "This is no old man's game. After last year's HNA competition I swore that I would never do it again. It's physically demanding. I came home from Kentucky and took 5 days to recover."

As much as he likes building, you might be surprised to learn that it's the art and customer satisfaction that Bobby thrives on. "When customers come out and see what's now in their backyard with that giant smile on their face. And they say, 'Wow. It's beautiful.' That is very, very fulfilling."