Contractor Stories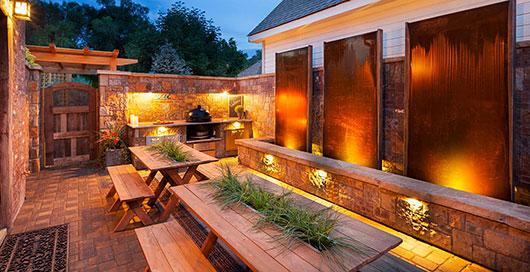 Project Profile

Design/build contractor

Lindgren Landscape

Fort Collins, CO

Designer

Tim Lindgren, President

Project Manager

Matt Wadlington

Size of improved space

10,000 sf

Project value

$440,000

In-house work

Design

Excavation

Pavers

Lighting

Landscaping & Planting

Irrigation

Work done by subcontractors

Masonry

Gas hookups

Electrical

Carpentry

Structural footings

Year completed

2015

Fortifying a downtown lot for outdoor living space

Combating neighborhood noise while creating privacy and a unique space to entertain.

By Tom Hatlen

A large new house was built on a small old lot in Old Town Fort Collins, CO. Houses in the neighborhood are close together and busy streets aren't far away. The homeowners were well aware of these things from the start, and wanted a capable contractor ready to landscape the property and help mitigate noise and privacy issues as soon as house construction was complete.

They found Lindgren Landscape's website, liked what they saw and made a call to set up a meeting. Tim Lindgren says, "They gave us a deposit the day of our initial consultation to get on our schedule because we were about 4 months out. I don't know if they interviewed other companies, but they were very committed from our first meeting on."

Lindgren Landscape gets about half of initial client contacts thru their website. Tim says, "Our website portfolio and idea book are loaded with our work. The client wanted a lot of vertical elements. When it comes to doing things that are vertical – outdoor kitchens and shade structures, fireplaces, fire pits, masonry – no one in northern Colorado can design and build the vertical elements with the degree of difficulty we do."

The initial consultation reinforces the breadth of their work with even more photos sorted by category on their laptops and tablets. "They say fireplace, we can browse through all our fireplaces, or fire pits, or kitchens."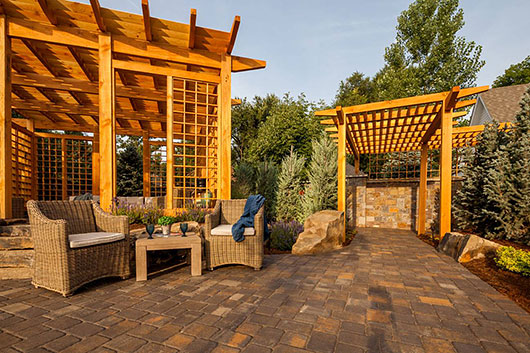 At initial consultations, clients learn that Lindgren Landscape is strictly a design/build company, and that they charge for designs. "We don't do 'design only' and we don't do 'install only.' If we're going to put our name on it, we want to have control of the quality of the design all the way through the quality installation, and be able to put our creative spin on everything we do," explains Tim.

Tim also uses the meeting to learn the client's vision for the project, what elements they want, what their tastes are and their budget. Once he has a firm grip on those things, he calculates roughly how many hours it will take to design and build. He says this client had very realistic expectations on costs and complete trust in Lindgren Landscape's abilities, so they quickly came to an agreement and he began designing.



Demo, construction, drainage

The design was done by the time the house was built and the Lindgren Landscape crew began work.

The lot had already been scraped in order to build the new house so there wasn't much demo work upfront. (The big demo work would come later.) They began running utilities and excavating for drainage and for foundations/footings.

The Lindgren crew then installed the grill island's 8" thick rebar-reinforced concrete slab footing. A foundation subcontractor built the engineered 30" structural foundations for the stone walls that would encircle the property and for the slab water feature. With the footings/foundations in place, the masonry subcontractor built the mortared stone structures – the walls, grill island, water feature and fire pit.

A concrete contractor fabricated the concrete portions of the slab water feature, a steel contractor fabricated legs to hold it upright, and a pool contractor plastered the basin at the bottom to make it water tight. Tim had designed the feature and had drawn up plans for each of the subs.

Much of the courtyard work was done while electricians, plumbers, masons and carpenters finished the interior of the house. Working around Lindgren's own subcontractors added to the congestion in that tight courtyard.

But the biggest challenge was probably the drainage plan for the enclosed courtyard areas. With walls and hardscape trapping rainwater, they hired an engineer to draw up plans for trench drains to the street, and a series of pipes and catch basins to collect roof and surface water. This was further complicated by the city requiring a sidewalk foot traffic study and rerouting plan and barricades/signage which led to the hiring of a traffic management service.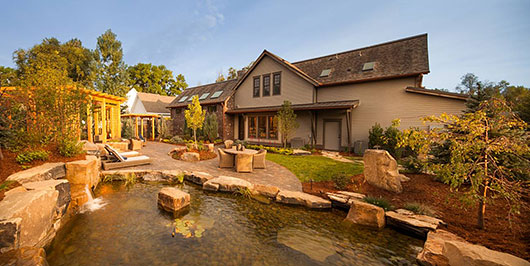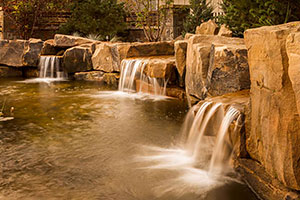 Project size doubles

With all the structures built and the pavers installed, the homeowners purchased the lot to the rear of their property. The project more than doubled in size. The new lot was on the other side of a newly constructed very expensive 6' stone wall with 30" footings.

After contemplating redesign options for phase 2 they decided the 80' stretch of stone wall 10' out the client's back door no longer made sense and needed to be torn down. Building a new wall 200 linear feet around the expanded backyard would have been expensive, and it was no longer necessary. Now that they had more space, they could use dense planting and berming to screen the property while decorative iron fencing with stone/wood accents enhanced privacy.

The Lindgren crew reshaped the expanded backyard for a pond, raised shade structure, L-shaped pergola, plantings, pavers and utilities/irrigation/lighting. Then they finished out the installation with the help of subcontractors.

Tim recently ran into the clients at a fundraiser. They said they couldn't be happier with the project. Even so, Tim doubts there will be a phase 3: "We've built every square inch of that property. I don't know where they would put anything else."