Contractor Stories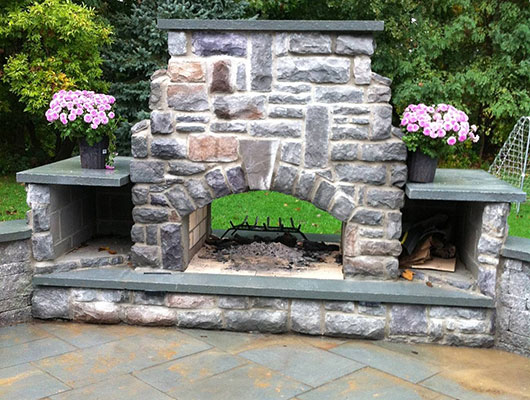 Finding a happy place

Contractor finds peace & profits transitioning to hardscape with a smaller, diverse, skilled crew.


By Tom Hatlen

Contractor Mike Darling likes where his company is today. "12 years ago I had up to 17 employees. It was more stress, more call backs and more headaches. The quality wasn't there and the money wasn't any better. It was the same amount of profit if I had 17 people or if I had 6 quality people. I felt like a babysitter. I'd rather be out in the field building."

Today, Mike employs 6 quality field workers year-round and another 1 or 2 high school/college kids part time in the summer. 4 of the year-round staff (including himself) are highly skilled key people and 2 are all-around laborers. 2 of the key field employees are women.



Women workers

About 11 years ago Mike hit the jackpot with a help-wanted ad he posted on Craigslist. Of the 12 or so responses, he hired his 2 longest serving key employees from that ad, Dave Hayes and Julee (Timmy) Tim. Timmy was his first female field employee. She was actually the first employee he ever hired who had masonry experience like himself. Mike is a 3rd generation mason. Since that Craigslist posting, Mike has hired several other women including his other key employee, Claudia Gagnon.

Mike says they don't have issues with women fitting in on the construction site. And, they don't have problems with women doing the work or lifting heavy blocks, etc. Everyone in the company relies on tools and equipment to minimize back strain.

"It seems to be that the men work that much harder because they don't want to be shown up by a woman. But, the women that work for me are hard, hard workers. They don't want to be outdone by the guys either. So everyone works harder."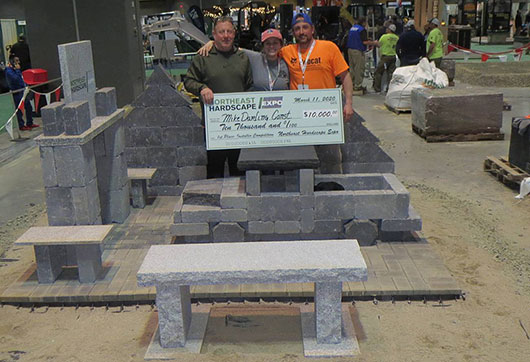 Empowered employees

In addition, Mike says women tend to be better listeners and are better with customers. In fact, Timmy usually accompanies him on site visits. "When she goes on an estimate, she gets right in with the woman of the household who is usually the one making the decisions. It's always good."

Other times Dave or Claudia might accompany Mike on the visit. "I usually try to bring somebody with me on the estimate that's going to be working on that job. It costs extra money to do this, but I think it pays off in the long run. That way they're familiar with the job from the start. They know what the customer's looking for, and how they're going to be using their patio.

"The customer could talk to any of the 4 of us. We're all at pretty much at the same level. We all care about the customer's satisfaction. We're all knowledgeable about making changes, what materials are going to cost and how much time it's going to take. If I'm not there, they'll call me and go over it, but we don't stop the job. We give the customer an idea of how much it's going to cost and change it right then."

Mike believes his approach to hiring has helped him find quality people regardless of gender. His want-ads emphasize "no experience needed." He says, "I'm looking for someone who has common sense, the right attitude, ambition and a willingness to learn. I can teach them to do the work. I'd rather do that instead of breaking them of bad habits they picked up elsewhere."



Off-season house flipping

Once Mike finds good people he does all he can to keep them. "The labor force is slim pickings. I don't want to lose well-trained people each winter by laying them off."

In the off season Mike puts all 6 full-timers to work fixing up houses. House renovations carry them thru most of the winter. Employees typically go on unemployment for a short time, from a few days to a couple weeks.

"My wife and I got into flipping houses about 2003. Then we brought our employees into it. They make their normal wage they make in the summer. This last year I bought 3 houses for us to work on."

"I try to find houses that have foundation issues because we know how to fix that, and we can usually get them pretty cheap. We'll redo the whole house, put in a new kitchen, do some masonry work like accent walls. It requires different skills, but I can usually train somebody in 1 or 2 days and then they got it."

By mid-March Mike is already looking for houses to close on by the summer so they can start planning renovations and buying materials for next winter.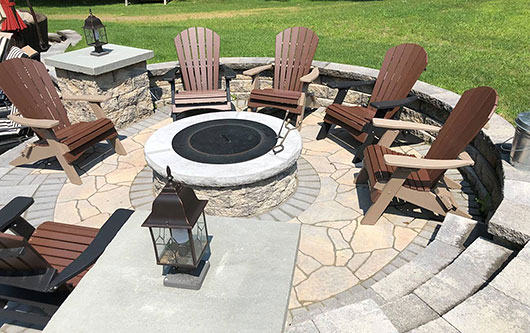 The masonry advantage

The company's masonry expertise gives them an advantage in their winter renovation work and in most everything they do. Those foundations they repair – in 1995 Mike's core business was building foundations and pouring concrete for builders. Over the years he did more and more backyard hardscape work. By 2004/2005 the transition was complete.



Profile

Mike Darling Construction, LLC

Troy, NY

Founded 1995

Michael Darling Owner

Customer base

100% residential

Services

75% hardscaping

20% masonry

5% flipping houses

Project price range

$5,000 to $100,000

Annual sales

$750,000

Employees

5-7

Mike says there wasn't much satisfaction building foundation walls that are just going to be buried with dirt. He finds it more gratifying working directly with customers and building finished products. All of his key people have become proficient in masonry work and hardscape work having completed ICPI certification courses.

"Pretty much every job we do has some type of masonry feature in it, a fire pit, a kitchen or a fireplace, or pizza oven. We build everything from scratch except fire pits which we build from kits. Most of our outdoor kitchens have soapstone countertops and we fabricate those slabs right on site. We do a lot of cultured stone and natural stone.

"There's not a lot of people out here that do what we do. The number of masons here are slim to none. If somebody wants a custom built fireplace or pizza oven there's no competition out here for that. I'm either going to be the one building that for another contractor, or the customer is going to hire me to do the whole job. We're usually booked up for 6 months out."

With all the work they can handle, Mike takes the opportunity to help other contractors. "We're not here to compete. We're here to help everybody. If they need advice I'll help them out. I'm not afraid to give anybody my secrets.

"Believe it or not I have 3 paver roller tampers I keep at our shop for other contractors to use. There are 7 or 8 contractors around here that use them. That way they're doing it right. They're not using a plate compactor and breaking the pavers."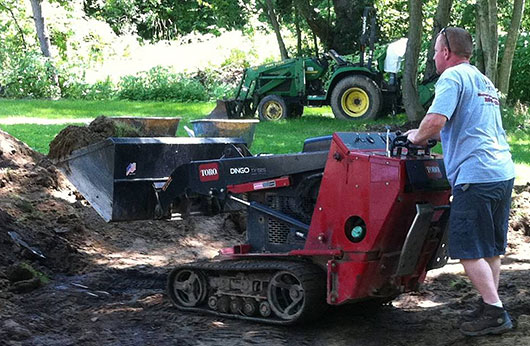 Working a 5-year warranty

Mike says he's confident enough in their work that they offer a 5-year warranty. But, more than that, it gives him a reason to call during the fourth year. "If something is going to fail, it's going to fail in the first year or 2, the first winter. After that it's unlikely you'll ever hear from them.

"I call them during that fourth year, 'Hey, your warranty is coming up. Can I stop out and make sure nothing needs to be fixed?' By that time they've recuperated from the expense of the initial job. A lot of times this leads to additional work for us, adding a kitchen or a fireplace."

Transitioning from foundation work to beautifying properties with a quality crew of positive people have been good moves, and have enabled Mike to help others by providing the tools and resources he wished he always had.



Blades for sale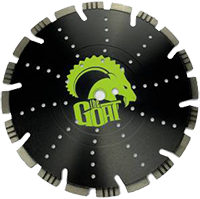 A few years back, Mike was getting frustrated that the saw blades they liked most weren't always available or were too pricy, and the alternatives he tried didn't measure up. So he looked into developing his own.
"I talked to a couple blade manufacturers and told them what materials we usually cut, 8,000 to 12,000 PSI pavers and SRW blocks. I asked them why one type of blade cut fast but burned up fast, why one was able to cut through asphalt, why one was able to cut curves better, and why one lasted so long. I took that knowledge and said, 'Well, can we make a blade that combines all the features we need most in our work?'"
Yes they could. The catch was they would have to manufacture 1,000 blades to make it worth their while. So Mike placed his order and now sells his line of diamond blades thru his HardscapingEssentials.com online store and thru a handful of area dealers. He also offers landscaping and hardscaping lights.