Contractor Stories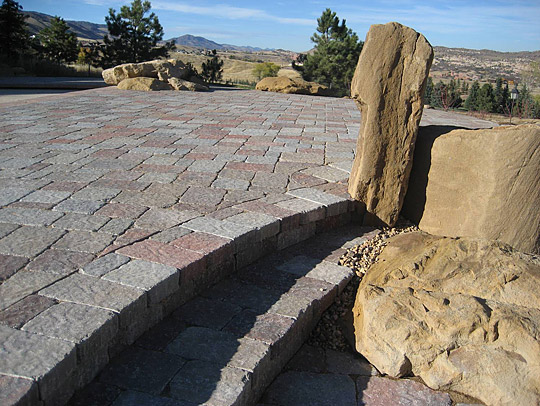 Surviving the wild economic ride
Thru wise money management, focus on efficiency, and investment in equipment and people, Creative Hardscape survives to fight another day.
By Tom Hatlen

By 2008, Frank Gandora had built Creative Hardscape into a multi-million-dollar company. "It's been a rollercoaster. We were going up the track climbing higher and higher. Then once we got to the top the economy dropped and we dropped with it.

"When the economy fell, I firmly believed we had the wherewithal to ride this out. I knew we were in a really good position financially, personnel-wise, equipment-wise, customer-wise. And I was hoping it was going to eliminate my competition.

"But we didn't lose competitors. We got new ones. Roofers and glaziers were trying to install pavers. These huge landscape companies we used to work for decided they could do our work. I lost a big granite streetscape project to a company that specialized in kitchen countertops.

"We were losing work by drastic amounts because those people were bidding work just to get wages, just to get cash flow. My competitors who I'd been bidding against for years became my friends because they were going thru the same thing."

Frank says these new competitors were undercutting bids by up to 30%. They were pricing themselves right out of business. The next year they'd be gone, and a new crop of them would come in.


Rising from the bottom
Over the course of 3 years Creative Hardscape lost hundreds of thousands of dollars annually as costs to cover overhead like insurance and some financing exceeded income. In the darkest days of the recession, annual sales fell to nearly 1/4 of the company's peak.

Today, the outside competitors are going away, Creative Hardscape is still here, sales have rebounded and profitability has returned. Creative Hardscape has kept nearly all their highly-educated, experienced staff. They have their facility and all of their equipment (and it's a lot of equipment), and they're poised to take on the future.

Frank says, "We went into this economy pretty much debt free, and with a lot of equity from the good years. If we financed something it was paid off in a year to 3 years. Several times I had to add some cash back into the company to keep it running. We had the money to do it.

"I used to admire the companies with the brand new trucks and the nice office buildings, the employees with the cool laptops and smart phones on the job sites. Well, they didn't own any of that. They financed everything. When their cash flow died they couldn't make all those payments, and they had to go out of business."

Throughout the recession, Frank refused to lower prices or to layoff a bunch of people. But he credits the downturn for pushing him to tighten up the ship, and he was shocked to find how much room they had room for improvement.

"The downturn forced us to look at things differently. I thought we were efficient. Now we look back at the good times and think, 'Wow, what a lot of waste we had.'"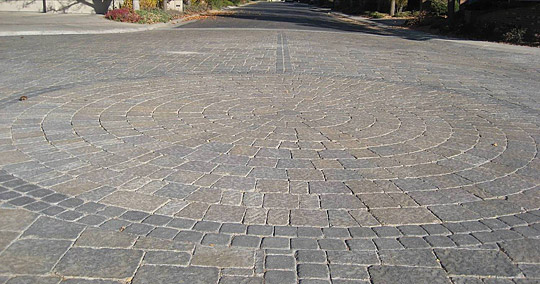 Holding to prices, and to what you do well
Project Profile

Creative Hardscape Company

Lakewood, CO

Founded 1995

Frank Gandora, President

Customer base

50% residential hardscape construction

50% commercial hardscape construction

Largest project size

$922,600

Annual sales

2010 $1.7 million

2011 $2.8 million

2012 $3.9 million projected

Number of employees

36

In holding their prices they found they were winning mostly very high-end projects for people with very deep pockets. "A client like Bill Gates might lose $40 billion when the economy tanks. Then he's only worth $60 billion. Those clients that really had the money still had no problem spending to get what they want."

Creative Hardscape offers the range of choices the Bill Gates of the world might want. Sure, they do pavers, but they also offer the skills of stone and brick masons. They do sand-set, mortar-set and bituminous-set work; pedestal pavers, granite, porphyry, flagstone and various cobblestones. They build gravity and mortared walls using concrete SRWs, brick, stone and stone veneer.

"If it's a segmental hardscape, we do it. A lot of competitors go up to the homeowner or the architect and they show them, 'Here's the only product we install.' I can go up there show them 20 different things, things that really complement a commercial structure or a backyard patio based upon the veneer of their home.

"We're 100% hardscape. We have tried really hard to have that diversity using mostly the same basic skill set. There are differences, some skills you need to learn, but it's not drastic."


Value people
Frank spent years developing an exceptional workforce, and while his people did work fewer hours for a few years he wasn't about to show them the door to reduce costs. Frank says he's never held back in paying employees. "My first several years in business my CPA would tell me, 'Frank, you're not making any money because your payroll is 30% higher than the industry average.'

"But, after awhile it all comes back to you. I have highly productive, skilled, knowledgeable people that have worked with me for 13 or 17 years. They figure out ways to do things efficiently and fast, and they make decisions without calling me.

"We pay well enough that our employees can buy homes and new cars, raise families and give back to the community. It turns into a nice situation for everybody."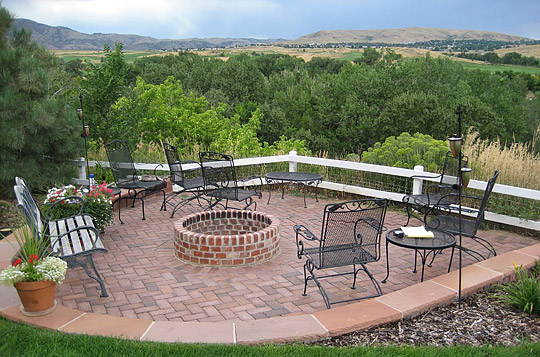 Lessons from the downturn – Recycling
In looking for efficiencies, Creative Hardscape discovered recycling at the suggestion of employees. They found recyclers to take in leftover concrete, sand, soil, base material – nearly all the materials they use. Before the downturn they spent about $96,000 annually on waste disposal. Last year they spent just $6,000.

"The key to it is discipline to separate things out. You can't just throw everything into a big pile. The landfill charges $200 for a dump truck or $400 for a roll-off. Most recycling places take it for free, or for pennies on the dollar."


Lessons – Cut crew size
Over the last few years Frank says they've had success challenging crews to do more with fewer people. Crew size varies depending on the job, but they've reduced the average from 5 people to 4.

"It's funny. I can put 6 guys on a crew or 4 guys on a crew, and they're still going to install 1,000' a day. When you have a lot of guys on a job, there's someone else to take up the slack. Reducing the crew size everybody realizes, 'Hey, we've still got 1,000' to put in today….' so they work extra hard to get there."


Lessons – Cut vehicle waste
Creative Hardscape uses vehicles more efficiently:


"If one of our trucks is delivering material, it will also be bringing material coming back from that job." Modified dump truck beds allow the same truck to be loaded with palletized material or sand/gravel/soil. See "A fleet of big trucks" section below.
They use the minimum truck size for what needs to be hauled, maybe a pickup for something small.
They turn off vehicles and equipment. Frank says they (including himself) had gotten into the habit of leaving trucks and loaders run all day long. "Turn it off. If that saves a few dollars a week, multiply that by the total number work weeks. It adds up."
Lessons – Tighten up time sheets
Frank says, "When you're making money, it's easy to let your guys have 2 or 3 hours a week of overtime. But those few hours a week add up. It's huge. It comes right off your bottom line."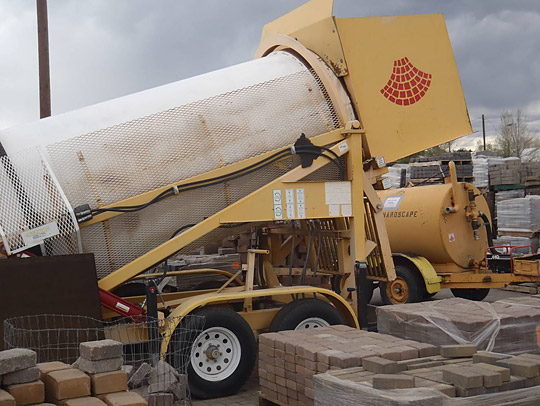 Creative Hardscape's tumbler eliminates the wait for tumbled materials.
The need for speed
Customer satisfaction and speed are the driving forces behind many Creative Hardscape equipment purchases. "When a customer asks when we can start, I say, 'When do you need it done?' Most people are fine waiting 3 weeks or whatever. But if they say they need it done in 24 hours or 3 days, we're going to get it done in that time."

Even on more paced projects, Frank says clients want to see a full crew on site day after day until the job is done. And the faster you can deliver their beautiful project and make the mess go away, the happier they'll be.

"All the customer cares about is that it gets done, and that it's a quality job. They don't care that a truck broke down, or that 2 guys are in jail. They don't care about the problems we have; they want the job done. I have the equipment, tools, infrastructure and staff in place to get the job done regardless."


Equipped for speed
Frank was surprised to find waste in his company because productivity and efficiency have long been at the core of his business. Over the years he invested heavily in equipment to an extent that doesn't square with what one might normally associate with frugality.

In the interest of speed and efficiency, Creative Hardscape owns:

A paver tumbler (yes, a big one like the manufacturers use).
A mechanical installer.
A fleet of large trucks to deliver all of their own pavers, wall blocks and other materials.
Scores of specialty tools and equipment.
Da tumbler
Aside from the weather, Frank says materials are the chief cause for delaying projects, and delayed projects are the reason he has a tumbler.

"There are suppliers that only tumble pavers on Thursdays. If I have a change order Friday afternoon for another 400 sq. ft. of pavers, I can't wait until next Thursday. I can't believe how many contractors look at the week-long wait as siesta time. No. The client wants the job done. I want the job done."

So he bought a $50,000 tumbler in 2004. Creative Hardscape occasionally tumbles pavers for manufacturers with a backlog. Frank says if you add that to his company's volume of tumbled work, the tumbler paid for itself in 5 years. Today it saves Creative Hardscape 35 to 45 cents per tumbled square foot.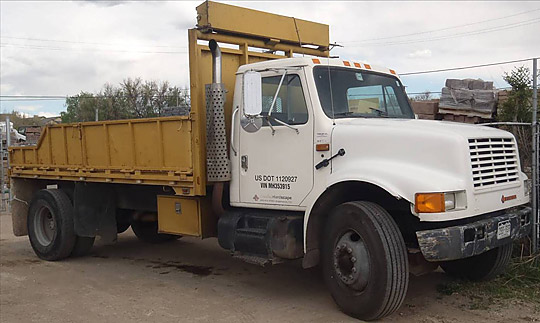 Truck beds are specially fabricated to haul pavers, dump sand/gravel – whatever materials a hardscape
crew deals with. The sides fold down for quick loading and unloading of palletized material like pavers.
A fleet of big trucks
Creative Hardscape owns a fleet of 11 trucks over 26,000 GVW for much the same reason they own a tumbler. Frank refuses to be held back by material deliveries.

"I can't wait 2 or 3 days. I can't wait 2 or 3 hours. If we bid a job for 5 days, we want it done in 5 days. We try to get it done in 4. When that Friday afternoon change order comes along, I want the ability to pickup that material, get it installed, collect the full check including the change order and pull off that job by 5pm Friday."

He said it was a grueling process putting together a dispatch system and navigating through all the trucking regulations and licensing requirements. And it was a big gamble buying all those trucks and hiring class A and class B drivers.

"But it's paid off because we're a just-in-time company. Any job in a 4-state region, I could make 1 call and whatever I need would be stocked and palletized, and we'd be there in a few hours."

The truck beds are specially fabricated at about $3,000 each to handle whatever materials a hardscape crew deals with. The sides fold down for quick loading and unloading of palletized material like pavers. The bed is also a dump to haul sand, gravel and soil.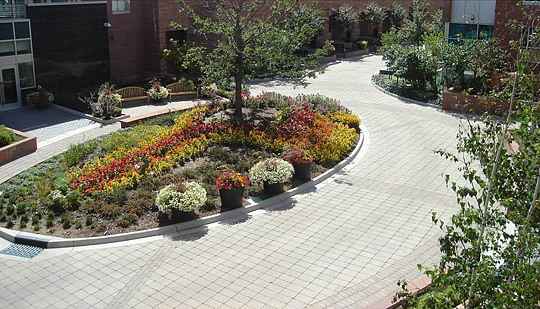 Tools you should use
Frank says there are many less pricey tools that everyone should use. "I teach installation classes around the country for ICPI and for manufacturers, and I can't believe how few contractors use the tools they're using to install pavers in Europe such as paver carts, paver extractors, alignment bars…. That guy using the paver cart does the job of 3 guys. I can have the other 2 guys do something else and get that job done faster."


Tools positioned to attack
Highly organized work site trailers position Frank's people to attack a job like fire fighters attack a fire. "When a fire truck pulls up, it has everything the firemen need to fight that fire, and they know exactly where everything is. They're not digging around looking for a demo saw or a pick axe."

"Every tool in every job site trailer is in the exact same place. Every trailer has a paver extractor in the upper left corner, 2 jumping jacks in the middle, first aide kit on the far right, fire extinguisher near the door. The spare tire's in the same spot. The grease goes in the same spot. It's very, very important for efficiency."


All tools are alike
Plus, every trailer and every piece of equipment is the same make and model. Frank says, "I have 12 Bobcats. They're exactly the same. There's no 'Oh, is this a Case, or a Caterpillar, or a New Holland?' They all work differently. Every table saw, every demo saw, every compactor – everything is exactly the same.

"It's good for my mechanic. It's good for parts. It's good for operators. It doesn't matter what crew gets what trailer. It doesn't matter if someone transfers to a different crew."


Tools are tracked
Before taking a trailer to a job site, a quick check of the equipment tracking board shows if anything has been borrowed and which job it's on. Frank says, "When you take that trailer to a job, you know what's in there. You're not on site waiting around for a jackhammer or something. We know on a day-to-day basis where all of our equipment is. That prevents theft and holds people accountable."


Mechanical installer
Frank had purchased a mechanical installer just before the downturn. "Anytime I find a piece of machinery that will increase labor productivity and efficiency, that's what I want. Today with the economy coming back, the mechanical installer gives us a competitive edge in price and speed. We'll be able to get more jobs done and make more money."


It's a permeable future
Frank believes the downturn also slowed the rise of Permeable Interlocking Concrete Pavers (PICP). "Once this economy gets back on track, PICP is going to take off just like segmental retaining walls did in the 1990s. It's a green building product. It's a best management practice for storm water control. There are so many great things about it."

PICP is something Creative Hardscape will focus on in the next 3 to 5 years as Frank works to take the business rollercoaster to new heights. They're positioned with the people, equipment and systems to do it.