Editorials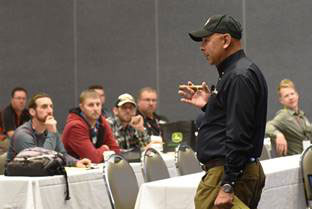 Are the good times really over for good?
By Frank Gandora

Merle Haggard once asked in a song, "Are the good times really over for good?" I think back to the time before the covid-19 pandemic when gas prices were low, the price of lumber was never a concern, and the economy was running on all 8 cylinders. Our economy was expanding at a brisk pace and the future looked so bright we had to wear shades.

We were running from project to project, no worries about material or equipment availability. If you wanted that new truck or needed a special part to fix a piece of your equipment it was no big deal, you just bought them and went on with your day.

At the beginning of the covid-19 outbreak we all braced for the worst and jumped on board with the, "Give us 2 weeks to flatten the curve." Those 2 weeks turned to 4 and then more. I don't think anyone knew what would happen next. I was getting calls from clients – builders, general contractors and homeowners – begging for discounts because they were not sure if they were going to make it thru the pandemic. I was just as scared as them. I didn't want to lose any of the things I had earned during the "good times" so I drank the Kool-Aid and gave discounts, gave away extra services, and did whatever I could do to secure my back log to prepare for the worst.

Things never did turn out like we thought. Besides the lock downs and mask mandates something special happened to our industry that no one thought would happen. The demand for home remodeling, landscaping and outdoor living spaces, etc., went thru a record breaking streak. Right now, professional installations are outpacing the DYI market and demand for our contracting services is stronger than ever.

Then it happened, things sneaked up on us again with something no one expected, SHORTAGES! It wasn't about toilet paper this time. It was about something even more important. There are now shortages of materials like wood, concrete, pavers, retaining wall blocks, bricks, outdoor lighting, furniture and that new F-350 Super Duty King Ranch I always wanted. The biggest shortage of all was labor. Who knew that the day would come where someone could make more money staying home playing video games than actually going to work?

Once again we wonder what is going to happen next. Some of you may be of the negative sorts, but I am here to tell you the future looks bright for our industry, if we are smart and ready to adapt to the changing times.

The pandemic has created a need for people to be outside. We are going to see more construction with parks, outdoor shopping areas, enhanced pedestrian areas, friendly streetscapes and other projects.

At the same time I'm beginning to see urban areas become more concentrated especially in the residential housing market. Residential housing is being designed and built with smaller footprints thus leading to unique and special outdoor areas consisting of intimate patios, decks and garden areas.

In the commercial sector, parking lots are going have more PICPs and rooftops are becoming areas for plaza settings, outdoor kitchens, swimming pools, and believe it or not, roof top dog parks. Multifamily projects are also looking at expanding space outdoors with rooftop areas or patios, and entertainment areas and such.

As an industry we need to focus on those trends and meet those needs. These concentrated areas will require unique types of construction, such as Low Impact Development and LEED's requirements. Implementing Permeable Pavements in both commercial and residential projects is here to stay and it's best you bring yourself up to speed on the great benefits PICPs (Permeable Interlocking Pavement) have to offer such as water conservation, storm water management and first stage filtration.

Now let's get back to those pesky shortages. What is the best way to overcome those shortages you might ask and meet the demands of a changing landscape? A great place to get a jump start is by attending this year's HNA trade show in Louisville KY.

At HNA you can see, feel and touch that equipment that will make your hardscape projects go faster, often with less labor. By attending workshops and other continuing education classes you will gain insight to unique ways to run your company. You can network with other contractors, share ideas with others around the country that don't compete with you.

You may come away with an idea that you can implement in your hometown to give you that edge you need to get to the next level. HNA gives you the opportunity to see what the hottest products, equipment, tools and trends are in the hardscape industry.

If you find yourself waiting for your local supplier or manufacturer to make that one type of paver or wall you always install, now is the time to branch out and learn about the many different kinds of hardscape products that you can introduce to your market that competitors don't even know exists. Of course don't forget to attend my workshop on Thursday the 21st, "Secrets every contractor should know about the hardscape business." Hardscape construction isn't what it used to be. Actually, it is going to be better.


Frank Gandora CCPI, CS, PICPS is President of Creative Hardscape Company in Lakewood, CO. Frank is also a certified hardscape trainer and a regular seminar presenter at Hardscape North America.